Nvidia's ARM-based laptop chips could spell trouble for Intel
This laptop chip competition is wARMing up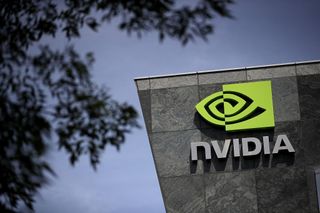 (Image credit: Justin Sullivan /Getty)
Nvidia is well-known for its AI computing chips and top-tier GPUs. Now, it looks like the company wants to add Arm-based laptop chips to its repertoire. According to a recent Reuters report, Nvidia has started designing CPU chips that will run the Windows operating system and use Arm Holdings' technology.
Microsoft is working with Nvidia and other companies to help build Arm-based chips for Windows PCs and put them back on a level playing field with Apple. In the past three years since Apple created its own Arm-based chips for MacBooks, the company's market share has doubled and its laptops have been praised for their incredibly long battery life.
When could Nvidia release its first Arm-based laptop chip?
If the anonymous sources from the Reuters report are to be believed, Nvidia could release an Arm-based PC chip as soon as 2025. Reuters' sources also stated that AMD has plans for an Arm-based chip as well, and that these AMD chips could also release as soon as 2025.
Right now, Nvidia and AMD are trailing behind Qualcomm in this race for an Arm-based chip that's compatible with Windows and can actually compete with Apple's. Qualcomm has been making Arm-based PC chips since 2016, but they haven't always been the most successful. The biggest hurdle all three companies need to face in designing an optimal Arm-based chip is its compatibility with Windows.
Qualcomm recently announced its Snapdragon X chips, designed and produced after acquiring Nuvia, a startup founded by former Apple employees who worked on Apple's transition to its Arm-based chips. These chips should start showing up in laptops as soon as next year.
MacBooks are at the top of their game right now, with a stellar battery life and speedy performance, and it's all thanks to their Arm-based Silicon chips. Switching to Arm-based architecture is clearly the way forward for Windows laptops, especially since new Windows laptops usually offer terrible battery life.
Qualcomm is seemingly ahead of the competition right now, but that doesn't mean much in the world of technology. Nvidia, AMD, or even Intel may come up with a better Arm-based chip for laptops in less time because they have more resources, a better approach, or a more diverse skillset among employees. Regardless, we should have solid Arm-based Windows PCs that rival MacBooks within the next few years.
Category
Back to Ultrabook Laptops
Brand
Processor
RAM
Storage Size
Screen Size
Colour
Condition
Price
Stay in the know with Laptop Mag
Get our in-depth reviews, helpful tips, great deals, and the biggest news stories delivered to your inbox.