Qualcomm Snapdragon X: Is 2024 finally the year for Arm-powered PCs?
We might be seeing Snapdragon X chips powering lots of laptops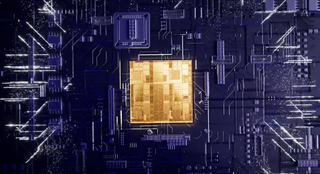 (Image credit: Qualcomm)
Ahead of Qualcomm's annual Snapdragon Summit, the company just announced details about its new Arm processors for PCs titled Snapdragon X. According to Qualcomm (via Ars Technica), Snapdragon X will include a new CPU architecture called Oryon, GPU cores, and an NPU that takes advantage of generative AI.
These Snapdragon X chips won't arrive until 2024, but they could possibly skyrocket Qualcomm into a competitive space with AMD and Intel, two companies dominating the laptop space right now. Qualcomm has been making PC chips for a while, but they haven't been able to compete performance-wise with AMD or Intel chips for a variety of reasons.
This time, however, it'll be a different story because Snapdragon X chips are the first ones created since Qualcomm's acquisition of Nuvia in 2021. This acquisition happened as part of an effort by Qualcomm to create chips that would rival Apple's Silicon chips. Snapdragon X chips could very well make 2024 the year for Arm-powered PCs.
What's the hype around Nuvia-based Qualcomm chips?
If you don't follow the world of laptop chips, it might be confusing why Qualcomm's acquisition of Nuvia finally means better, more powerful chips. Nuvia was a startup founded by former Apple employees, a few of which worked on Apple's transition to its popular Silicon chips. Qualcomm acquired Nuvia knowing this, hoping that it could build its own chip-architect team that could compete with Apple and other industry leaders.
Shortly after the acquisition, Apple sued a Nuvia co-founder and the current Qualcomm engineering SVP for stealing Apple employees. Apple dropped the lawsuit earlier this year, but the threat behind the suit left people wondering whether Qualcomm was onto something.
Looking back to our interview with Qualcomm last year, we asked whether Qualcomm's Nuvia-based laptops (which were originally projected to arrive by the end of this year) might be the breakthrough devices Qualcomm's been waiting for in the laptop market. At the time, the Senior Director of Product Management for Snapdragon Chipset at Qualcomm, Nitin Kumar, was quick to say yes, but also noted Qualcomm's currently successful products, like the Lenovo ThinkPad X13s.
We've since reviewed this laptop and noted its excellent battery life, solid build, and top-notch keyboard and display, but there were clear incompatibilities with Windows on ARM software. This current incompatibility is likely the biggest hurdle to jump for an ARM-powered PC. Ars Technica notes that "some Windows apps and almost all Windows drivers written for x86 PCs still won't work in the Arm version of the software."
If you look at Apple's M1 and M2 chips, it's clear that chip designers can use a custom design with the same Arm instruction set to deliver a battery-efficient and performance-efficient chip. Apple managed to migrate fairly seamlessly from Intel to Apple Silicon Macs, so the hope is that Qualcomm can do the same with the new knowledge and skills held by the acquired Nuvia team.
We'll have to wait until next year to get our hands on laptops equipped with Snapdragon X chips, and see if they truly offer a performance experience that rivals AMD or Intel, but the outlook is great right now. Later this month, we'll be at the Snapdragon Summit, so we'll have more to report on Qualcomm's latest offerings then.
Category
Back to Ultrabook Laptops
Brand
Processor
RAM
Storage Size
Screen Size
Colour
Condition
Price
Stay in the know with Laptop Mag
Get our in-depth reviews, helpful tips, great deals, and the biggest news stories delivered to your inbox.