Forget Grammarly! Google Search now lets you check your grammar with this easy trick
Perfecting your grammar has never been easier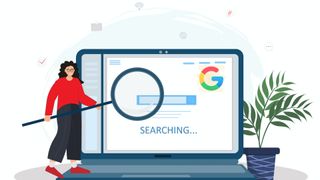 (Image credit: Getty Images/Yuliya Pushchenko)
You can now head directly to Google Search — or Google Chrome, the preferred web browser of most — to find out whether a sentence is grammatically correct. Gone are the days of needing a dedicated tool to check a few odd-sounding sentences for a work presentation or a school paper.
For more advanced or continuous grammar checking, you might not want to delete your preferred grammar checker just yet. At the moment, Google Search can correct simple sentence grammar and it's "only available in English." This is yet another helpful way to use Google Chrome, and we're here for it.
How to check your grammar via Google Search
Over time, it's possible that this built-in tool could develop to tackle larger paragraphs, different languages, and more intricate grammar mistakes. For now, Google's search engine can detect a few mistakes within one or two small sentences.
You can use this built-in grammar checking tool through the Google Search app or the search bar in the Chrome web browser for desktop or mobile platforms. Follow these steps to start using this new tool.
1. Access Google's search bar. You can do this a few different ways:
2. Type or copy/paste your sentence into the search bar, followed by "grammar check." Google says that its grammar-checking tool "uses AI systems and might not be 100% accurate, especially with partial sentences," so input a complete sentence for the best results.
3. Check out your results. If the feature worked successfully, you should see Grammar Check at the top of the page with your sentence underneath.
Detected mistakes are bolded and underlined so they're easy to spot, and they're automatically corrected beneath the Grammar Check title. Google Search can detect mistakes with spelling, verb tenses, apostrophes, commas, and even incorrectly used words, like "their," "they're," and "there."
One thing Google Search won't automatically correct is the controversial oxford comma, or serial comma. The search engine doesn't add an oxford comma in lists of three, but it does add a comma to separate the first two entries. However, when you input a sentence with an oxford comma, Google Search recognizes it as grammatically correct.
If something looks incorrect to you, you can click Feedback to the right of your sentence. You'll be asked whether the answer seems unhelpful, not relevant, incorrect, or offensive, and you'll have the option to type any specific comments. To prevent offensive answers, the grammar check tool won't run if the content is in violation of Google Search's overall policies. Dangerous, hateful, medical, or profanity-ridden content would be in violation.
This helpful grammar-checking tool is the latest in a series of built-in Google Search utilities, joining handy tools like a speed test, color picker, and calculator. Google also recently released a new tool that helps you take better control of your online presence by removing unwanted information from Google Search and sending out alerts when new personal information is detected in searches. Slowly but surely, Google Search is becoming smarter and more useful.
Category
Back to Ultrabook Laptops
Brand
Processor
RAM
Storage Size
Screen Size
Colour
Condition
Price
Stay in the know with Laptop Mag
Get our in-depth reviews, helpful tips, great deals, and the biggest news stories delivered to your inbox.