PS5 'Slim' vs. PS5: Here's what's changed
Just how different is this slimmer console?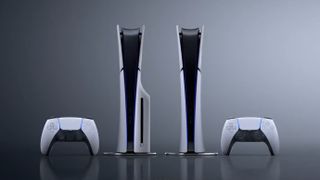 (Image credit: Sony)
With the holiday season approaching, Sony has a new, slimmer version of its popular PS5 console on the way. Since the PlayStation 5 consoles originally launched in 2020, they've already dropped in weight twice, and this new PS5 version will be both lighter and smaller than the current model.
Sony isn't officially calling this the 'PS5 Slim,' but that's what the public has dubbed it because historically Sony has always released a 'Slim' version of its consoles. Unlike other 'Slim' versions of past-gen consoles, this one doesn't look like it's equipped with too many improvements. Let's take a look at the biggest differences between the standard PS5/PS5 Digital consoles and the upcoming PS5 'Slim' consoles.
Where to buy PS5 and PS5 Slim consoles
At the time of writing, the PS5 'Slim' hasn't launched yet, and even the original PS5 is still difficult to get your hands on. That said, you can regularly check for new stock of the PS5 standard version at Target, Best Buy, Gamestop, Amazon, Walmart, or the PlayStation website. Or, here are links directly to the PS5 Digital version at Target, Gamestop, Walmart, and the PlayStation website.
These consoles will be replaced with the PS5 'Slim' version, so it's unclear whether there will be new links for the 'Slim' version or if they'll merge together on one page as the old consoles sell out.
PS5 vs. PS5 Slim: What's the difference?
When it comes to internal specs, you won't see much difference between the standard PS5 and PS5 Digital consoles and the new PS5 'Slim' and 'Slim' Digital consoles. All the consoles are equipped with the same CPU, GPU, memory, i/O throughput, performance targets, and additional storage options. The biggest differences are with internal storage, the disc drive, and overall form factor.
Swipe to scroll horizontally
PS5 vs PS5 Slim

| | | |
| --- | --- | --- |
| Row 0 - Cell 0 | PS5/PS5 Digital | PS5 Slim/PS5 Slim Digital |
| CPU | 8x Cores @ 3.5 GHz (variable frequency) | 8x Cores @ 3.5 GHz (variable frequency) |
| GPU | 10.3 TFLOPS, 36 CUs @ 2.23 GHz (variable frequency) | 10.3 TFLOPS, 36 CUs @ 2.23 GHz (variable frequency) |
| Memory | 16 GB GDDR6 | 16 GB GDDR6 |
| Memory bandwidth | 448 GB/s | 448 GB/s |
| Internal storage | 825 GB Custom NVME SSD | 1TB Custom NVME SSD |
| I/O throughput | 5.5 GB/s (Raw), up to 8-9GB/s (Compressed) | 5.5 GB/s (Raw), up to 8-9GB/s (Compressed) |
| Expandable storage | NVMe SSD Slot | NVMe SSD Slot |
| External storage | USB External HDD Support | USB External HDD Support |
| Optical drive | 4K UHD Blu-Ray Drive / No disc drive | 4K UHD Blu-Ray Drive / Optional disc drive |
| Performance target | 4K @ 60 FPS, Up to 120 FPS and 8K | 4K @ 60 FPS, Up to 120 FPS and 8K |
| Dimensions | 15.4 x 10.2 x 4.1 inches / 15.4 x 10.2 x 3.6 inches | 14.1 x 8.5 x 3.8 inches / 14.1 x 8.5 x 3.1 (excluding projecting parts) |
| Weight (most recent models) | 8.6 lbs / 7.5 lbs | 7.05 lbs / 5.7 lbs |
YouTuber Dave Lee (via Kotaku) recently uploaded a hands-on impression with the new PS5 model and the original 2020 launch versions. He noted that the console did feel lighter, but it didn't feel that much smaller in-hand. Kotaku notes that perhaps this is the reason Sony's choosing not to market this new version as the 'PS5 Slim.'
According to Sony's blog post, the new PS5 version "reduced in volume by more than 30% and weight by 18% and 24% compared to the previous models." In the side-by-side comparison of the two consoles, it certainly looks slimmer, but not by much.
Sony's new PS5 models sport a unique change: a detachable disc drive. In the video, Lee demonstrates how the disc drive comes out using a tab-release design rather than screws. This detachable disc drive is the reason why the new design splits the main panel into two pieces.
If you purchase the new PS5 Digital console and want to add Sony's Blu-ray Disc Drive later, you can buy it separately for $79.99 once it's released, and install it just using the same mechanism that's on the new PS5 Disc model.
Lee also points out that the USB-A port on the front is being replaced by two USB-C ports. He also shows some unattractive transparent plastic pegs that improve the console's stability when horizontal, but look a bit out of place on the console. The top heat exhaust features plain vents, no longer sporting a spiral design, and the internal SSD layout looks different.
Though you can still add the same amount of storage via the internal SSD slot, the amount of built-in storage is increasing slightly with Sony's new console. Rather than the 825GB SSD that's been with the PS5 since it launched in 2020, new consoles will feature a 1TB SSD. For some users, this "extra" space will be eaten up with one game, but it's at least something to justify the price increase.
PS5 vs PS5 Slim availability
Sony estimates the new PS5 model will be available in this November. The price of the PS5 Disc version will remain the same at $499.99, but the PS5 Digital will increase by $50 for a new retail price of $449.99. Once the old 2022 versions of the original PS5 console sell out, this new 'Slim' version will be the only model you can purchase new.
Bottom line
Stay in the know with Laptop Mag
Get our in-depth reviews, helpful tips, great deals, and the biggest news stories delivered to your inbox.