iPhone 15: The 5 biggest rumored upgrades STILL don't get me excited about this phone
Wake me up when the iPhone 16 comes along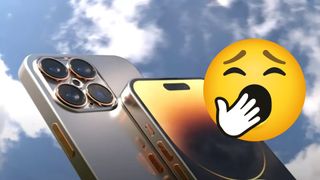 (Image credit: Future)
The iPhone 15 is arguably the most highly anticipated tech device of the year, and while I'm usually chomping at the bit for the next-gen Apple phone, I feel dead inside about this one.
I'm neither thrilled nor repulsed — I'm just apathetic and unmoved. Yawn!
Conversely, the lead up to the iPhone 14 was electrifying. There were a cornucopia of rumors that the controversial notch was getting the boot in favor of a new pill-and-hole design. What really ended up happening is that Apple decided to keep the notch (especially on the standard iPhone 14 and new Plus models), but made it less intrusive for the Pro variants in the form of the oh-so-dazzling — *waves fingers* — Dynamic Island. Ooh! Aah!
Some say that the iPhone 14 line was a bit of a bore, particularly when it comes to the entry-level models, but the point is that the hubbub over whether the notch was in or out — and what it could look like — added to the suspense of the iPhone 14's release.
Now, when it comes to the next-gen line, I'm hearing that the iPhone 15 is set to feature new USB-C ports across all four models — erm, OK? Welcome to the 21st century, Apple! But that isn't the only reason USB-C's debut on the iPhone 15 leaves me unimpressed.
I did a deep dive into all the credible rumors surrounding the iPhone 15. Let's list them all and delve into why I am uncharacteristically indifferent about the next iPhone's release.
1. The debut of USB-C — next!
Yes, there's a good chance that the next iPhone will have the oft-requested USB-C port, but I wouldn't be so quick to celebrate. Don't think you can just use any ol' USB-C cable lying around to charge the iPhone 15! In an article aptly titled, "Apple completely missed the point of USB-C," we discussed a report that claims that the Cupertino-based tech giant is locking down its iPhone 15 USB-C port under the Made for iPhone (MFI) program. What does this mean? Chances are high that you'll need to purchase Apple-certified USB-C cables and accessories to ensure that they play nice with your iPhone 15.
This doesn't mean that your non-MFI USB-C cable won't work at all, but leakers say that features such as ultra-fast charging may be limited to cables green-lighted by Apple. This ensures that Apple doesn't lose out on that sweet, sweet cash (i.e., commission) it made with the Lightning port. As The Verge explained, under Apple's MFI program, if you want to plug anything into an iPhone, be it a charger or accessory, you have to go through the Cupertino-based tech giant, first — and it'll take a cut from each device.
When the EU announced that all future iPhones (2024 and onward) must have USB-C, it threatened Apple's pockets. Scratching its head on how it will continue to impel consumers to purchase Apple-approved cables, it reportedly settled on MFI as the most logical solution. As someone who prefers to carry one type of cable around (I'm an avid solo traveller), excuse me if I'm not particularly thrilled for this oh-so-exciting USB-C port (that Apple didn't even want to introduce to begin with).
2. Dynamic Island coming to standard and Plus models — yawn!
According to bean spillers, Dynamic Island is now coming to the next-gen standard and Plus models. Woo-hoo, I guess? If you ask me, Dynamic Island should have been featured on all iPhone 14 models, but I get it — Apple wanted to reserve its best goodies for the Pro models to make them more attractive. Still, you can't possibly expect me to be excited for Apple to say, "Here's a feature we already introduced last year, but now you paupers who can only afford the standard models can enjoy it, too!"
And while Dynamic Island — with its slick animations and eye-catching transitions — is aesthetically pleasing, I'd be lying if I said I was jumping out of my skin with excitement when Apple announced it last year. It's a cool, eye-catching UI perk, but it's not mind-blowing either. It's like the Touch Bar all over again — it seems more gimmicky than useful. However, as more third-party app developers conjure up more interesting, interactive ways of using Dynamic Island, perhaps I may change my mind about it in the future.
3. The new A17 Bionic chip — meh!
No one blinks an eye when a returning champion wins the gold medal, and in the same way, the iPhone 15 Pro getting outfitted with yet another industry-leading chip is far from gripping. After all, we expect nothing but excellence from Apple on this front.
One thing you can't deny about Apple is that it makes killer in-house chips. For example, the Cupertino-based tech giant never fails to impress us with the zippy Apple Silicon packed inside its latest MacBook Air and MacBook Pro lines. The same could be said for its A-series chips — they often blast all the other phone rivals out of the water (though the Samsung Galaxy series is beginning to play catch up).
Rumor has it that the new A17 Bionic SoC will be built on three-nanometer chips from the Taiwan Semiconductor Manufacturing Company, Apple's longtime supplier. However, as mentioned earlier, Apple always crushes it when it comes to performance and power efficiency. On top of that, its chips are machine-learning beasts that can handle innumerable calculations you can't even fathom.
Consequently, when Apple announces the new A17 Bionic inside the iPhone 15 Pro and iPhone 15 Pro Max later this year, how could anyone be stirred? Apple's been sitting on the mobile-performance leader throne for years now, and it will likely continue to reign for years to come. No, I'm not excited about the new A17 Bionic chip, but that's a compliment — the Cupertino-based tech giant's preeminence is just a given at this point.
4. Shrunken bezels — lame!
Multiple sources claim that the iPhone 15 Pro and iPhone 15 Pro Max are set to have smaller bezels, and I don't know about you, but I haven't heard anyone complain about the iPhone's bezels in recent years. Personally, as someone who's tested the last three generations of iPhones, I've never once felt that the frame that surrounds the display was obstructive in any way (but the notch is a different story).
As such, if shrunken bezels are supposed to be one of the biggest draws of the Pro models, how could I muster so much as a modicum of excitement for the next-gen iPhone?
5. Periscope-like telephoto lens — pfft!
The telephoto lens on the current Pro and Pro Max models allow for 3x optical zoom, but with the new iPhone 15 line, that could change.
Popular Apple analyst and leaker Ming Chi Kuo claimed that the next-gen iPhone will feature a new periscope-style telephoto lens that increases its optical zoom capabilities up to 6x. That's cute, I guess — but even the Samsung Galaxy S22 Ultra, released last year, offers 10x optical zoom. I appreciate the upgrade, but if it still falls short of rivals, how can you expect me to bounce off the walls over this news?
Bottom line
Speaking of Kuo, he did bring up one other rumor that admittedly perked my ears. He predicted that the iPhone 15 Pro models will ditch physical buttons for solid-state buttons. In other words, the power and volume keys on the next-gen Pro variants won't actually be buttons per se — they'll be panels that provide some sort of tactile feedback to simulate the same feel and functionality of real buttons.
As someone who's had the 2020 and 2022 iPhone SE models, I fell in love with the haptic sensors on their home buttons. Every time I made a purchase or downloaded an app from the Apple App Store, the subtle vibrations never failed to satisfy me.
However, if that is the only thing that the iPhone 15 has goin' for it, well, I'm sorry, but I just not excited about it at all.
Stay in the know with Laptop Mag
Get our in-depth reviews, helpful tips, great deals, and the biggest news stories delivered to your inbox.
Kimberly Gedeon, holding a Master's degree in International Journalism, launched her career as a journalist for MadameNoire's business beat in 2013. She loved translating stuffy stories about the economy, personal finance and investing into digestible, easy-to-understand, entertaining stories for young women of color. During her time on the business beat, she discovered her passion for tech as she dove into articles about tech entrepreneurship, the Consumer Electronics Show (CES) and the latest tablets. After eight years of freelancing, dabbling in a myriad of beats, she's finally found a home at Laptop Mag that accepts her as the crypto-addicted, virtual reality-loving, investing-focused, tech-fascinated nerd she is. Woot!