I replaced my laptop with this wild dual-screen beast for a week — here's what happened
The Duo 16's second display isn't a gimmick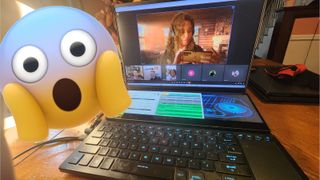 (Image credit: Future/Getty Images/Ysr Dora)
The Asus ROG Zephyrus Duo 16 is a beautiful monstrosity. It has a striking 16-inch, QHD main display that is the brightest panel on a gaming laptop I've ever seen. It comes with a second display, too, that invades the deck, shunting the keyboard to the bottom half.
Is this second display, also known as ScreenPad Plus, just a gimmick? Or does it actually serve a useful purpose?
I decided to put the ROG Zephyrus Duo 16 to the test, replacing my beloved HP Envy 13 with an out-of-this-world $4,655 Asus laptop for a week. Yes, you read that correctly — this chunky bad boy costs nearly $5,000. Is it worth it though? Let's talk about it.
3 things I love about the Asus ROG Zephyrus Duo 16
Hands down, the Asus ROG Zephyrus Duo 16 is one of the most innovative technological feats of 2023, if not the best.
This particular review unit, which you can find on Newegg, is filled to the brim with class-leading specs:
AMD Ryzen 9 7945HX CPU
Nvidia GeForce RTX 4090 GPU (16GB of VRAM)
32GB of RAM
2TB of SSD storage
Windows 11 Pro
While it has its faults (we'd be out of our minds to instantly expect perfection from such innovative, envelope-pushing tech), this dual-screen wonder has far more pros than cons.
After spending seven days with the Duo 16, diving into my typical workflow by day and playing Cyberpunk 2077 at night, here are three things I absolutely adore about this dazzling dual-screen device.
1. Multitasking
The second display, also known as the ScreenPad Plus, is a showstopper on the Duo 16. It's a 14-inch, 2560 x 734-pixel touchscreen. You can watch it rise to a glorious 30-degree angle after opening the lid, and man, this thing looks like a funky futuristic laptop ripped out of a spaceship from year 3005.
I'm often hopping on video calls for work, and sometimes, I can get away with completing some tasks behind the scenes. (Hey, it's called good time management!) However, when I have a single-screen laptop, Google Meet often disappears from view while my display gets swamped with content.
But things are different on the Duo 16. I can drag Google Meet down to the ScreenPad Plus — and I can see my colleagues in all of their glory — while having the main display all to myself as my work playground.
And when I'm ready to focus on the Laptop Mag gang again, I can drag and drop Google Meet right back up to the main display.
And can we talk about how multitasking on this thing is fantastic?! My work requires a lot of cross-referencing, requiring me to peruse through several documents and apps simultaneously. While writing in-depth reviews (I actually wrote Laptop Mag's Duo 16 review on this dual-screen darling), I have Google Docs open as well as other content (e.g., in-house test results) that help to support the article. On a single-screen laptop, I'm often bouncing between windows and tabs.
On the Duo 16, however, I can attach three different windows into the ScreenPad Plus' trio of slots, which is perfect because I'm often crossferencing three or more apps, documents, or Google Chrome windows. I zipped through my work at Laptop Mag faster than ever, allowing me to glance at several documents at once all in one device — without lifting a finger.
It's also worth noting that ScreenPad Plus has a cool handwriting app, allowing you to sketch and take notes on the second screen.
2. The keyboard is so friggin' clicky
I'll admit it. I'm a keyboard snob. If my fingers aren't flying across the keys like a seasoned tango dancer, I don't care if the laptop is made out of gold, I don't want it. This is why I can't let go of the HP Envy 13; I've yet to find a keyboard that matches its satisfying, tactile greatness — until now.
Truth be told, I expected the Duo 16's keyboard to suck. I mean, come on, look at it. With the ScreenPad Plus taking over the top half of deck and the keyboard being shoved to the bottom half, I thought I was going to hate this keyboard. Surprisingly, I don't. At first, as a touch typist, my brain was thrown off by the Duo 16's layout. It wasn't use to the keys being so low on the deck, but after a day or two, I quickly grew accustomed to the odd keyboard. With 1.7mm of travel, clicky keys, and incredible tactile feedback, I was impressed with how my fingers pranced across the keyboard like graceful ballet dancers.
One downside is that there isn't a built-in palm rest (my palms are just hanging off the deck), but fortunately, the Duo 16 ships with a detachable, magnetic one, which rectifies the issue.
3. The main display is brilliant
It's getting warmer in New York, so I decided to take the Duo 16 to the backyard, and to my surprise, I was impressed with the 16-inch, QHD, 16:10 main display. Why? Well, gaming laptop screens are typically on the dimmer side. According to our in-house records, the average premium gaming laptop has a 400-nit display. This isn't too bad, but they're not the easiest to see during bright sunny days while sitting outside.
As mentioned at the outset, the panel on the Duo 16 has the brightest display I've ever seen on a gaming laptop, climbing to a whopping 684 nits. I was relieved that I didn't need to do any squinting while browsing the internet and enjoying the great outdoors.
However, there is one problem. I can't last more than two hours outside without needing to run back inside for an outlet. This brings me to the next section: things I dislike about the Duo 16.
3 things I dislike about the Asus ROG Zephyrus Duo 16
1. The battery life is a bummer
Gaming laptops typically have terrible battery life. Their beastly components require too much energy, so naturally, they're not the most power-efficient. On top of packing powerful internals, the Duo 16 also sports an ultra-bright display and another screen on the deck that harnesses even more energy, making the dual-screen darling quite the battery drainer.
To give you an anecdotal experience on battery life, I unplugged my Duo 16 one Thursday afternoon at 1:40 p.m. It was juiced up to 100% and ready to go. With both screens open and set to max brightness, I dove into my typical workflow. By 3:26 p.m., I received a warning from the Duo 16 that the laptop needs to be recharged. That's less than two hours of battery life.
According to our in-house testing, with just the main display open and set to 150 nits of brightness while surfing the web over Wi-Fi, the Duo 16 can last 4 hours and 7 minutes. Its battery life while gaming is even shorter: 1 hour and 22 minutes. Ouch!
The Duo 16's runtime isn't great, but again, no one expects long battery life from a gaming laptop anyway (especially a dual-screen one).
2. Gaming lag while using the ScreenPad Plus
Speaking of gaming, after work, I fired up Cyberpunk 2077. It ran as smooth as butter without me interacting with the ScreenPad Plus, however, I eventually wanted to test whether I could make use of the second 14-inch display while Cyberpunk 2077 hogged the main 16-inch screen. The answer is kind of.
One use case I considered for the Duo 16 is running Discord on the second display, allowing me to chat with other gamer friends while playing a multiplayer game on the main display. The issue with this, however, is that there's a good chance that you'll experience some lag — just like I did. In other words, don't think you can play a fast-paced, first-person shooter on the main display while chatting with folks at Discord on ScreenPad Plus; it will slow your game down. However, if you want to pause a game to access some information on the ScreenPad Plus (e.g., YouTube walkthroughs or gameplay guides), that will work like a charm.
3. The touchpad is irksome
While I love the Duo 16's clicky keyboard, the touchpad gets on my damn nerves. The touchpad doubles as a numpad, so on the upper left corner, there's a button that lets you activate the numpad, rendering the touchpad unresponsive to any cursor navigation.
There are so many times that I accidentally activated numpad mode. As such, while I'm trying to navigate the internet, I'd realize that the touchpad is completely unresponsive. After looking down, it turns out that I inadvertently turned on numpad mode. It's such a pain in the rear!
Bottom line
Overall, the Duo 16 is the best gaming laptop I've ever tested. On top of the incredible SceenPad Plus, clicky keyboard and brilliant 16-inch main display, the Duo 16 has an incredible audio system (i.e., six speakers, four force-canceling woofers, and two tweeters). Music sounds divine on the Duo 16.
Unfortunately, it's difficult to recommend the Duo 16 to the average Joe because $5,000 is no laughing matter. If you have money to blow, by all means, snag yourself a Duo 16 if you're looking for a laptop that will significantly slash your work time, thanks to its excellent multitasking capabilities.
If you're looking for something much more affordable, check out our best cheap gaming laptops page to avoid any sticker shock.
Category
Back to Gaming Laptops
Brand
Processor
RAM
Storage Size
Screen Size
Colour
Condition
Price
Stay in the know with Laptop Mag
Get our in-depth reviews, helpful tips, great deals, and the biggest news stories delivered to your inbox.
Kimberly Gedeon, holding a Master's degree in International Journalism, launched her career as a journalist for MadameNoire's business beat in 2013. She loved translating stuffy stories about the economy, personal finance and investing into digestible, easy-to-understand, entertaining stories for young women of color. During her time on the business beat, she discovered her passion for tech as she dove into articles about tech entrepreneurship, the Consumer Electronics Show (CES) and the latest tablets. After eight years of freelancing, dabbling in a myriad of beats, she's finally found a home at Laptop Mag that accepts her as the crypto-addicted, virtual reality-loving, investing-focused, tech-fascinated nerd she is. Woot!