Google Play Protect's new real-time Malware scans make Android phones safer than ever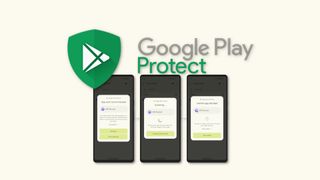 (Image credit: Google)
While small in numbers, the Google Play Store has been subjected to a wave of Versioned-in malware attacks of late — and infections stemming from third-party Android Packages (APKs) is an ever-present threat for Android users.
While Google are hard at work playing whack-a-mole with the former, the company's ability to protect users from third-party apps installed beyond the Google Play Store has just been given a notable boost thanks to a recent Google Play Protect update.
Google Play Protect: What is it?
Google Play Protect is the Android app store's bulwark when it comes to safeguarding against spyware and malware intrusions. It's built-in to Google Play services already, and has been protecting millions of users from bad-faith apps for years.
Play Protect scans ~125 billion Play Store apps daily on the Google backend to ensure its databases are always up to date. An essential task given the latest Versioning tactic used by malicious developers to sneak apps past Google's malicious code detection systems.
Should Play Protect find a malicious app, it can then take actions, either by warning users, preventing the app from installing, or disabling apps automatically.
Google Play Protect: real-time scanning keeps Android users safer
Play Protect historically keeps install numbers of malicious apps through the Play Store down to a fraction of a percent. However, this has led to a rise in harmful apps being pushed onto Android users outside of the Play Store through direct downloads of APKs by using links in SMS messages, websites, and messaging apps.
While Play Protect can still warn users if the malicious app is already known to Google, these apps exist "off the grid" to the Play Store, and typically never pass through Google's rigorous checks — leaving users exposed to potentially harmful attacks.
In response, Google have enhanced Play Protect to keep users installing apps inside and outside of the Google Play Store safer than ever. The update, which began rolling out to users yesterday, sees Play Protect now offer real-time, code-level scanning of unknown apps in order to detect malicious intent or variations of harmful code.
This real-time analysis will then be able to inform users if a third-party APK is safe to install and pass this information back to Google's servers to keep others safe in future.
Google Play Protect: How to enable Google Play Protect
Google Play Protect is enabled by default on Android Phones making use of Google Play Services. However, if you want to make sure you're protected let's go through the steps of making sure this feature is currently active.
Step 1: Open the Google Play Store.
Step 2: At the top right, tap on your profile icon.
Step 3: Tap Play Protect, and then Settings.
Step 4: Make sure "Scan Apps with Play Protect" is set to On.
Outlook
While this seems like a minor update on the surface, the enhancement to Google Play Protect is a notable leap in security for Android phones. Not only will more Google Play Store users be safer from unknown threats, but so too will those making use of unregistered APKs.
Each app scanned by Play Protect aids in training Google's machine learning algorithms, helping it recognize threats easier. This includes advanced threats such as polymorphic and AI incursions that prove both difficult to detect and even more difficult to remove from a user's device.
Stay in the know with Laptop Mag
Get our in-depth reviews, helpful tips, great deals, and the biggest news stories delivered to your inbox.
Rael Hornby, potentially influenced by far too many LucasArts titles at an early age, once thought he'd grow up to be a mighty pirate. However, after several interventions with close friends and family members, you're now much more likely to see his name attached to the bylines of tech articles. While not maintaining a double life as an aspiring writer by day and indie game dev by night, you'll find him sat in a corner somewhere muttering to himself about microtransactions or hunting down promising indie games on Twitter.