Virtual try-on: Google AI helps every shape, size, and skin tone buy better
Better 'fits for your fit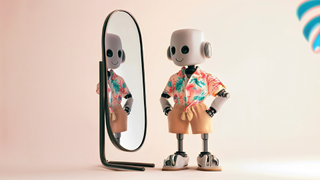 (Image credit: Laptop Mag / Rael Hornby (base image Generated with Bing, powered by Dall-E))
Anyone who has bought clothes online is bound to have had a similar experience of being lumped with some ill-fitting, color-clashing monstrosity that looks nothing like it did on the store's model. The problem? Well, carbs probably. Let's face it, not many of us look like the models used in online product images.
Differences in everything from skin tone, size, and shape can drastically affect how an item of clothing may look draped around your frame than that of a professionally lit, staged, and shot model. However, the digital wizards at Google have a solution in mind – and shock, horror! It's AI.
Virtual try-on: better buying for every shape, size, and skin tone
Soon, the days of being dazzled by an outfit online only to be left feeling like a frump in a potato sack on the day of delivery will be over – and it's all thanks to the power of AI. And, if you're in the US, by 'soon,' I mean right now. Google has recently released a new virtual try-on feature to give users a precise picture of products while searching for clothes online.
Virtual try-on in an AI-powered tool to help give buyers a better idea of how clothing will look on models of similar size, shape, and skin tone to themselves. From a single image, virtual try-on can accurately interpret how an item of clothing may drape, fold, cling, stretch or even form wrinkles and shadows across a wide range of body types, ethnicities and even hair styles.
Changing rooms, without changing rooms
The latest Google AI-backed feature to hit Search is live right now and features apparel from top brands like Anthropologie, Everlane, H&M and LOFT. Currently, you'll only see the "Try On" option appear on searches for various women's tops. However, Google is planning on expanding this feature across more categories over time, including adding men's tops later this year.
The era of the changing room is over, head to Google Shopping now and find a 'fit that fits you well, without ever having to step out of the house.
Stay in the know with Laptop Mag
Get our in-depth reviews, helpful tips, great deals, and the biggest news stories delivered to your inbox.
Rael Hornby, potentially influenced by far too many LucasArts titles at an early age, once thought he'd grow up to be a mighty pirate. However, after several interventions with close friends and family members, you're now much more likely to see his name attached to the bylines of tech articles. While not maintaining a double life as an aspiring writer by day and indie game dev by night, you'll find him sat in a corner somewhere muttering to himself about microtransactions or hunting down promising indie games on Twitter.