PlayStation Showcase 2023: Spider-Man 2, Metal Gear Solid, and Dragon's Dogma 2
Here's everything you missed at the PlayStation Showcase 2023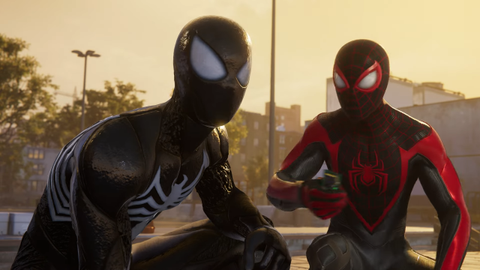 (Image: © Sony)
Sony just wrapped up its first PlayStation Showcase since 2021. We received trailers for new games like Spider-Man 2, Metal Gear Solid Delta: Snake Eater, Dragon's Dogma 2, Final Fantasy XVI, and far more. While the show wasn't as first-party heavy as I initially hoped, there's still plenty of cool stuff to take away from it.
Refresh
The PlayStation Showcase 2023 begins today on May 24 at 1pm PDT / 4pm EDT / 9pm BST (Twitch or YouTube). This is a little over five hours away, so free up your schedule to get a glimpse into PlayStation's exciting future. But if you cannot make it, keep this article open, as we'll be updating the page throughout the show.
The PlayStation Showcase 2023 begins in an hour at 1pm PDT / 4pm EDT / 9pm BST. It'll be available to watch on both Twitch and YouTube, but if you can't make it for whatever reason, we'll be covering the event live as it happens.
There's plenty to be excited about today, with over an hour of footage promised from Sony. We will likely see much of what the company plans to release over the next two years, which could include The Last of Us multiplayer, Spider-Man 2, Wolverine, Ghost of Tsushima 2, a new Astro Bot and unknown projects from Insomniac, Santa Monica Studio and Bluepoint Games.
Whatever happens, we'll be covering every headline you don't want to miss in this article!
The PlayStation Showcase 2023 begins now! Tune in on Twitch or YouTube to catch the show, but if you can't make it, keep up with this article as it will be updated live as the event happens.
The PlayStation Showcase 2023 opened with a cinematic trailer for a heist-based game where players invade corporate facilities and take the money back from the rich. We see the players with tons of gadgets using their wits to try and steal successfully. It's called Fairgame$.
The next trailer was for Helldivers 2, a game about tons of alien bugs invading the galaxy. However, it has now become a third-person shooter. The original was a co-op game where players go throughout cities batting tons of aliens and completing objectives. It seems like this sequel features far more open areas like rocky deserts.
The next game revealed was a first-person magic shooter called Immortals of Avenum. Imagine an FPS but you're battling everything with a magic gauntlet that has tons of special abilities that can be used against bosses and enemies. It looks absolutely wild, with the game launching on July 20.
Ghost Runner II was announced for launch in 2023, giving us a look at the player in a futuristic cyber-cycle riding down a ton of roads in first-person. Of course, classic melee combat is present with tons of fast-paced action involved and brutal fatalities.
The next title is a third-person action game called Phantom Blade 0 that has the player running around huge environments with a clearly dark tone as we saw beautiful creatures and mind-blowing encounters that pit us against tons of enemies at once in absolutely bonkers cinematic-style fights.
Deflecting skills, ridiculous over-exaggerated slashes and hyper-speed combat makes this title look absolutely nuts. It definitely has a cinematic focus, with a lot of the battles being less obviously gameplay and more theatrical and epic in nature.
A new game called Sword of the Sea from the visionary artists behind Abzu, The Pathless and Journey comes a new game that has the player riding a surfboard through enormous desert environments, gorgeous temples and other magnificent vistas. If you're a fan of huge creatures in a beautiful world with an indie aesthetic, you'll love this one.
The Talos Principle II was shown off, showcasing gorgeous science fiction locations as the player takes control of an android throughout this bizarre world. The original title was philosophical in nature, offering fascinating puzzles alongside its existential themes.
The next game called Neva opens with a soft pastel painterly aesthetic showcasing a bird falling down onto a meadow, with a lady and her giant pet wolves looking up at the sky in fear.
From the creator of Gris, this game showcases the protagonist battling tons of shadow monsters as a dark cloud overwhelms the world before her animal companion passes away. However, its pup lives, and the trailer ends shortly afterwards in a sad farewell.
The next game is called Cat Quest: Pirates of the Purribean and boasts a goofy cartoon aesthetic with the player in both top down and 2d environments battling tons of enemies and exploring a wide world.
A new game from Square Enix called Foamstars takes place within a futuristic cyber-punk city showcasing tons of fashionable characters in a 3v3 stance with silly, ridiculous weapons using bubble-based firearms to cover a neon glowing world with suds. It's awfully reminiscent of Splatoon.
Plucky Quest was shown off next, providing another look at this gorgeous picture-book aesthetic game, where players take an adventure through a gorgeous selection of chapters, alongside being able to jump out of the book and explore other sections of a gigantic room with other beautiful 2d drawings that the player can hop into.
Teardown, a physics-based puzzle game where players must find ways to fulfill objectives and destroy environments, is being shown off now. It's officially coming to PS5 this year.
The trailer opens with a close-up showing a series of ants crawling around on the ground before slowly making their way to the eyelid of some sort of creature as a bird flies up in the sky through a forest while gunshots go off in the distance. In the water is a giant snake creature that mercilessly attacks the bird before we see a close-up of Snake's face hiding within the forest as an official logo for Metal Gear Solid Delta: Snake Eater is revealed.
Destroyed environments expand out through a gorgeous world as a giant turtle speaks to the protagonist, who seems to be building various structures within an open area and grows natural wonders within the land. It's called Towers of Aghasba and features beautiful huge creatures and (seemingly) survival mechanics.
Final Fantasy XVI is being shown off now, the dark nature of its cinematics and nightmarish creatures within the world being given a short breakdown. It seems mostly focused on story beats, showcasing some of the major characters alongside the huge boss fights.
Alan Wake II is being shown off now, giving us a look at the world in-game, and some of the side-characters. It seems the player takes control of a new character, an FBI agent who's seemingly seeking Alan. It's launching on October 17.
Assassin's Creed: Mirage is being shown off now. It's focused on the standard formula, with tons of stealth, climbing, and typical Assassin's Creed-shenanigans becoming the important part. Stealth takedowns are a huge priority of this trailer, alongside flashy combat and assassinations, attempting to channel the original series' style once again. It launches October 12.
Revenant Hill is being shown off from Finji. The main cat character looks remarkably similar to the Night in the Woods character, with a cute black cat running through various city streets and natural locations before finding a nice place to rest next to a tree.
A new Grandblue game is being shown off with action-combat, huge rock monsters, dragons to battle against, elemental beasts of all kinds, and plenty of party members going absolutely wild with their unique abilities. It's called Granblue Fantasy: Relink.
Street Fighter VI is being shown off now, with a cinematic trailer giving us a hint as to what some of the story beats will look like. It has an impressive focus on each of the biggest characters' narrative elements with the World Tour mode. It launches on June 2.
Ultros features colorful 2d environments throughout a seemingly alien world that has the player climbing walls, planting seeds to grow trees to overcome obstacles, and battle bizarre otherworldly monstrosities to emerge victorious. While the trailer begins light-hearted and swell, it quickly shifts into something nightmarish. It seems like a MetroidVania launching in 2024.
From Perfect World Games comes Tower of Fantasy. We see a cinematic of a girl coming out from a giant machine, players riding mounts, crazy huge monsters, and players piloting mechs to battle half-robot animals throughout an anime-inspired open world. It looks like an MMO, but it's a little hard to tell from this trailer. It launches this summer.
Dragon's Dogma II is finally being shown off from Capcom! We see interspliced shots of the payer casting tons of crazy spells and battling throughout environments as lines of dialogue play over these scenes. Of course, we see huge dragons, griffins, ogres with clubs, and monstrous ladies with tons of snakes on their head. It looks absolutely wonderful!
A new Five Nights & Freddy's game is being shown off, called Help Wanted 2, where the player is thrust down an elevator before being stuffed into an underground facility and swiftly jump scared.
Resident Evil 4 VR is being shown off now, giving us a look at the game's opening areas. We see the player crossing through the opening dark village section before entering the iconic battle area where a chainsaw man nearly murders the player. No release date was given, but it will be a free DLC for the PS5 version of RE4.
Now the conference shifts into PSVR 2 titles, with a new game from Vertigo Games,. We see a zombie apocalypse game where there are tons of strange zombies everywhere. We see the player going through a huge desert and whacking enemies with arms, shooting them, beating them to death with weaponry and more. It's called Arizona Sunshine 2 and is coming 2023.
The next VR title from Smile Gate Entertainment is a first-person shooter that has the player battling tons of enemies through warzones, utilizing shotguns, machine guns, mini-guns, assault rifles, and sniper rifles. It's called Crossfire Sierra Squad.
Another VR title takes the player into a bizarre facility where tons of parts of the world are derelict. It has a black-and-white aesthetic and it's clear that the player needs to progress through tons of areas and battle through plenty of bosses and enemies in a hyper-fast action shooter. It's called Synapse and launches July 4.
Beat Saber is getting Queens music and is now coming to PSVR2. It seems to have quite a few changes, alongside new presentation gimmicks to make it more epic than ever before.
A new game from Bungie within a science fiction world where a player with a bizarre-looking weapon is running throughout a world before being sniped by another. The other player takes their chip before we get an overview of a gigantic destroyed celestial body overlapping another. It'll be a PvP-focused title called Marathon, but we did not see gameplay.
Destiny 2's latest expansion is being shown off, giving us an overview of the story thus far. It's called The Final Shape and a full showcase is happening in August.
Concord was shown off briefly, a new game showcasing different corners of a space-ship coming to both PS5 and PC. The trailer was far too short to know what was going on, but it is a PvP first-person shooter.
A Gran Turismo movie trailer is being shown off... which is an interesting choice, admittedly. Why show off a movie trailer now?
PS5 has just announced a device called Project Q alongside PlayStation Earbuds which can work on PS5 and PC. Project Q offers a DualSense controller in your hands, that lets you play games on the go from your PS5 over Wi-Fi.
Spider-Man 2 is being shown off now, giving us a look at Kraven the Hunter in a forest lifting a man by the neck and breaking it before tossing him to the ground. We see a man show him a tablet of New York City before he says "the great hunt begins." Six months later, Spider-Man appears already merged with Venom throughout the streets of Queens fighting robot dogs and having to battle against Kraven's army.
We also see Peter call in Miles as he comes to the conclusion he can't get to a certain location within the city fast enough. It seems to have its own seamless transitions allowing the player to jump across the city depending on where players are within the game. We don't know if swapping is linear or freely done, though. We see Miles using his evolved shocking powers to absolutely melt through enemies effortlessly.
Miles then traveled through the deep confines of an underground facility looking for the Lizard, before we see Peter Parker dropping through a ceiling with his Venom-tentacles coming out from him. Then the growling of the Lizard echoes between them before Miles and Peter have to chase after him.
Kraven's army is sailing away on speeds boats as both Miles and Peter peform crazy flips and kicks on the enemies to rend them useless. Kraven appears in a flying vehicle before sinking a ship, showing another jump between Miles and Peter, with Peter focusing on chasing Lizard and Kraven while Miles saves everyone.
We once again see another swap to Miles before Lizard tries to devour him alive, a front view of him having to dodge around Lizard as jumps at him. It seems that the Spider-Men were mostly interested in keeping the Lizard safe from Kraven, probably because they need him for something. At the end, Miles seems worried about Peter due to his merging with Venom.