Nintendo Direct February 2023: Tears of the Kingdom, Metroid Prime Remaster, Pikmin 4 and more
Here's everything you missed from February 2023's Nintendo Direct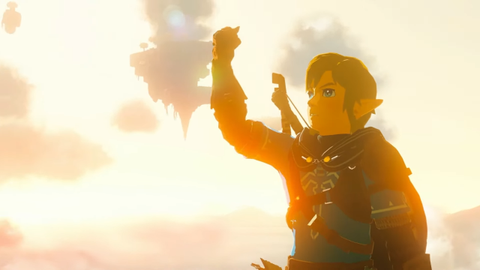 (Image: © Nintendo)
Nintendo hosted its February 2023 direct today, showcasing titles like The Legend of Zelda: Tears of the Kingdom, Metroid Prime Remaster and more. It went on for roughly 40-minutes, with plenty of small and large games to talk about it.
Here's everything you missed from the show:
Refresh
The Nintendo Direct will start at 2pm PST / 5pm EST. If you'd like to tune into the show, you can do so on Nintendo's YouTube or Twitch. As far as what we're expecting, we're hoping to get some big surprises alongside confirmation on what's already been announced.
Metroid Prime 4 was announced back in 2017, so maybe this is finally the time we'll get a look at it. We also know Hollow Knight: Silksong is meant to launch sometime this year, and maybe the new mainline Super Mario game will finally be shown off. Regardless, there's a lot to look forward to!
The Nintendo Direct is starting now! If you'd like to tune into the show, you can do so on Nintendo's YouTube or Twitch. Can't make it? Don't worry! Just keep up with this article and we'll be updating it throughout the show.
The Nintendo Direct opened with a trailer for Pikmin 4. We see a ship landing onto Earth before being graced with shots of the same garden we saw in the initial trailer. Now it's more detailed with new types of creatures present, before we see the aforementioned spaceship place the new main character.
This main characters runs around the environment, pulling a red Pikmin out of the ground and destroying walls with it. We're also shown the Yellow Pikmin and Ice Pikmin, with the latter able to freeze water and turn enemies to ice. There's also a dog-like companion in this game that can break through huge objects and move larger things, also allowing it to doggy paddle in water and act as a boat. His name is Oatchi.
The final bit of the trailer shows off an ominous creature with red eyes running towards the screen. Pikmin 4 launches July 21, 2023.
Volume III of the Xenoblade Chronicles 3 expansion pack is being shown off. Challenge battles with rogue-lite mechanics is also being added to the game, offering in-game outfits as well. Volume IV was also hinted, showcasing a story moment full of seemingly serious moments.
Volume III of the expansion launches February 15.
Samba de Amigo: Party Central was shown off, a rhythm game designed to be used like maracas and moving your Joy Cons in certain directions to shake them along the music. You can also customize your avatar and compete online against other players. Forty seconds are available from many genres around the world.
The game launches this summer.
We're seeing a fashion-based game called Fashion Dreamer that allows the player to create an avatar and connect with other players. It launches sometime this year.
We're seeing footage of the Dead Cells: Return to Castlevania DLC now, showcasing the areas and bosses. It launches on March 8th.
Tron: Identity is launching this April, showcasing a visual novel-take on the universe, allowing players to make decisions throughout a series of fascinating story moments.
Ghost Trick: Phantom Detective, a side-scroller choice-based game is coming to Switch this Summer.
Deca Police is being shown off, seemingly a third-person exploration game that takes the player through a wide city and allows them to unravel puzzles and mysteries. They also showed off combat, where it seems like the player is shooting at enemies in a turn-based way. It launches 2023.
Bayonetta Origins: Cereza and the Lost Demon is being shown off again, showcasing how Cereza enters a scary forest that entraps her. Players control both her and a demonic cat called Cheshire to get through battles, puzzles and exploration. Cereza cannot attack, just like the Bayonetta games, forcing the player to balance the two character's gameplay to be victorious.
It launches March 17.
Splatoon 3 is being shown off now; presumably some sort of DLC for it. We see the playable character hop onto a train and appear in what looks like a new district of the world. It's the Splatoon 3 expansion pass, bringing us to Inkopolis. It's available spring 2023. An ominous last bit of the trailer showcased a seemingly story-focused bit called Side Order, with Marina being in the center of it.
Illusion Island, an adorable and charismatic 4-player side-scrolling platformer has been shown off again. It allows players to choose from Donald Duck, Mickie Mouse, Minnie Mouse and Goofy to explore this island and utilize special abilities to jump and run throughout a dangerous world. It launches July 28.
Fire Emblem Engage Expansion Pass is being shown off, with Wave 2 featuring Hector, Emblem of Strength. Soren, Emblem of Acumen will also be coming in this wave, and finally Camilla, Emblem of Revelation.
Wave 3 will bring Chrom and Robin to the game, Emblem of Bonds and Veronica, Emblem of Heroes. You can tackle new missions to get these characters. Wave 4 will feature Fell Xenologue, a brand new story for the game. Wave 2 launches later today.
Harmony: The Fall of Reverie is a gorgeously animated narrative adventure featuring tons of choices. It launches June 2023.
Octopath Traveler II is being shown of now. A demo of the game will be on Nintendo eShop later today. This game will feature 8 individual character stories with the game launching February 24.
We Love Katamari is getting a remaster on Nintendo Switch, allowing you to play as the King of all Cosmos, taking pictures and more.
A gorgeous retro-inspired JRPG called Sea of Stars comes to Switch August 29. A free demo will be available later in the day.
Omega Strikers, a free-to-play air-hockey game featuring unique strikers that let the player compete in online matches against one another to shoot their puck into the goal comes April 27.
Etrian Odyssey Origins Collection comes to Switch. It's a first-person exploration game with turn-based RPG combat full of terrifying monsters. If you perish, you'll need to challenge that labyrinth again. It launches on Switch June 1
Advance Wars 1+2: Re-Boot Camp is being shown off again, filled with two turn-based campaigns featuring tactical action featuring local and online play, alongside the ability to create your own maps. It launches on April 21.
Kirby's Return to DreamLand Deluxe is being shown off with new content. The player can only use basic attacks and need to defeat enemies and restore the character's powers to get through the world. It's available after clearing Story Mode.
A demo for the game will be available on the Switch shop later today. It launches on February 24.
Nintendo Switch Online is receiving Nintendo Game Boy games (finally!). Including titles like Tetris, Super Mario Land 2 - 6 Golden Coins, The Legend of Zelda: Link's Awakening DX, Gargoyle's Quest, Game & Watch Gallery 3, Alone in the Dark: The New Nightmare, Metroid II: Return of Samus, Wario Land 3 and Kirby's Dream Land. It comes with Game Boy, Game Boy Pocket and Game Body Color screen filters.
Game Boy Advance is also being added to Nintendo Switch Online. Titles include Super Mario Advance 4: Super Mario Bros. 3, Warioware, Inc: Mega Microgame$, Kuru Kuru Kururin, Mario Kart: Super Circuit, Mario & Luigi: Superstar Saga and The Legend of Zelda: The Minish Cap. Four players can play compatible games, and titles like Metroid Fusion and Fire Emblem will be added in the future.
These titles will come to the Nintendo Switch online ecosystem after the Direct.
Metroid Prime is being remastered on Nintendo Switch. People have been waiting for this for a long time, so it's great to see we're finally getting a first look at it. The environments are absolutely stunning and seemingly capture the aesthetic of the original game quite well.
Metroid Prime Remastered launches on the eShop later today.
Master Detective Archives: Raincode is being shown off, from the creators behind Danganronpa. The player will be exploring the world and trying to figure out key elements of cases in order to solve murder mysteries. The player works with other detectives, who have special powers. It's available June 30.
Baten Kaitos I & II are getting an HD Remaster for Nintendo Switch. These games are gorgeous JRPG's with real-time deck combat as the player tries to unravel the revelations of the world. It launches summer 2023.
Fantasy Life i: The Girl Who Steals Time is being shown off now, a game that allows the player to travel through time, make new friends and build the island personally for themselves, cutting trees, fighting monsters and taking on different roles to help the island grow.
Professor Layton and the New World of Steam received the briefest gorgeous trailer.
Mario Kart 8 Deluxe is showing off its fourth wave. An entirely new course called Yoshi's Island is present, alongside the presence of a new character, Birdo! It'll be available this spring.
The Legend of Zelda: Tears of the Kingdom is finally being shown off in full force. The trailer opens with lightning crashing all around Hyrule. We see a blisteringly hot moon in the sky, alongside many aspects of the world in complete distress and destruction. We see the player flying vehicles and driving bizarre high-tech vehicles, alongside plenty of new temples and types of enemies. It launches May 12.