This STEM laptop can take you from the classroom to the workforce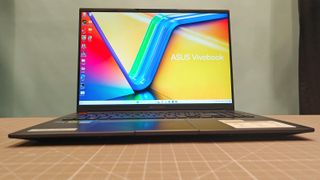 (Image credit: Future)
A term I've heard floated around, but never paid much attention to is STEM. The STEM acronym was introduced in 2001 by the U.S. National Science Foundation, it represents science, technology, engineering, and mathematics, four things many people treat like a peanut allergy. Hopefully when I'm done with you, you'll realize, STEM is much more than those four parts, and quite important for our collective future. Although some have tried to politicize STEM, I'm here to demystify and inform you on the value of STEM and STEM laptops..
In America today, if your kid is good at a sport, it will cost you thousands of dollars to get them the proper gear and training. Also, the job market in professional sports is very limited. For example, there are only 750 roster spots in Major League Baseball. However, there are thousands of STEM jobs surrounding MLB, that pay extremely well and as an added bonus don't carry a significant risk of permanent debilitating injury. Most of those jobs require some form of STEM education. From the guy running the scoreboard, to the person who designs the graphics we see during televised games. There are on average 12,000 full-time front office and on-field employees, and only 750 are players.
STEM has been a buzzword in education since it was first introduced and became a political issue in the 2010s, often used negatively or as a boogeyman and falsely accused of failing students. The issue is, with the coming onslaught of AI, making sure your child is equipped and educated is their best opportunity to build a wonderful and financially secure life for themselves.
STEM education shows up in so many areas, from architecture to zoology, STEM is there quietly in the background; even your local mechanic has been learning computer skills, mathematics, and science to repair your vehicle. Our carpenters, electricians, and plumbers use math and physics to build and repair our homes. If you look around, the one constant in our lives is technology, many of you will read this on cellphones or tablets. Hell, I used to have to wait for the latest issue of Laptop Mag, Popular Science, and Popular Mechanics to come out monthly and harass my local magazine shop owner to remember to put those aside for me.
Technology is ever-changing, and humanity's greatest asset has always been its ability to adapt, learn, and grow alongside technological breakthroughs. I'm not telling you that your kid needs a $4,000 laptop, a Ph.D. from MIT, and a cybernetic battle suit to compete. In the years to come, our kids will have to have a basic to advanced understanding of technology to survive and thrive in virtually any occupation. Have you ever looked at all the gear your cable installer uses, they look like the science officer from Star Trek. Which is good for them; Blue Shirts survived, Red Shirts died, except Scotty, and that's because he was an engineer.
What is a STEM laptop?
With the help of Asus, Nvidia, and a Vivobook Pro 16 STEM laptop, I undertook learning more about STEM and what some of the hardware and software requirements are to be considered a STEM laptop. The Vivobook Pro 16 I received is powered by an Intel Core-i9 13900H CPU, which is powerful enough to handle everything from advanced coding to formulas, and even gaming in your downtime.
However, when combined with one of Nvidia's GeForce RTX 4000 series GPUs, like the 4060 in our unit, I could now sit down and learn how to design a 3D model of a printer, using 3D rendering software, Solidworks.
Architecture has always been something I admire, and when I travel, I take photos of buildings, just because I enjoy the beauty of design. With the Vivobook's powerful GPU, I could use AutoDesk CAD software to design my own home, or use Unreal engine to design a game I could possibly beat my kids at.
Any laptop purchase is an investment and it's one you should really hope to only make once every four to five years. The Asus Vivobook Pro 16, I'm learning STEM skills on right now, packs the Intel Core-i9 13900H CPU, an Nvidia Geforce RTX 4060 GPU with 8GB of VRAM, 512GB of SSD Storage, a 16-inch color accurate Pantone certified 1920 x 1200 WUXGA 16:10 ratio display, and every port you need to connect all the peripherals you will encounter.
Image 1 of 3
It's feature-packed enough that your student will be able to run, and work in every powerful GPU-heavy software needed to complete STEM-focused courses and enter the workforce prepared to succeed with a tool in hand they can keep using to grow in their new careers. That is a lot of return for an investment of $1,399, which is far cheaper than all that sports gear and training and has a much higher success rate.
Education that pays for itself
After researching STEM, I'm placing far more importance on my kids learning some STEM skills. For example, the average hourly wage for a 3D animator is between $35 and $40 an hour. Many average more than $100K a year. Imagine making $100k a year to design a game you play on your phone. So if your child likes games and gaming, this could be a STEM-based job that will excite them. Another example, the average engineer in the US earns between $60K to $170K a year. My nephew, right out of college, was making $85K a year and now spends his days building rockets, earning over $100K. He bought a huge 3-bedroom house for himself before he was 30. By the way, he's single ladies. Also, his school loans will be paid off before he gets his first grey hair. He could be the STEM education poster child.
Any career you can think of these days requires, one of the basic four tenets of STEM, the medical field, social sciences, you name it, at some point, the need for some level of understanding of the powerful software being used to complete most work tasks will be essential for the majority of the workforce.
According to an article at BestColleges.com, with today's tech push, there is a need for professionals who understand how these technologies work, with the U.S. Bureau of Labor Statistics saying that STEM careers are the "jobs of tomorrow" but currently, there are not enough STEM professionals to fill available jobs in the United States.
Today, most kids spend hours on smartphones, computers, tablets and in front of their gaming consoles. Why not leverage that interest to help them make their own phones, computers, and games, while earning above-average wages? According to James Brown, the executive director of the STEM Education Coalition in Washington, D.C. the future of our economy is STEM, and STEM-related jobs.
In 2022 there were over 10 million STEM jobs, with a projected growth of 11% to come by 2030. That's only six and half years away when my soon-to-be high school student will be in her second year of college. So there is still plenty of time, and here is where tech companies like Asus and Nvidia come into play by working together to build powerful but reasonably affordable STEM laptops like the Asus Vivobook Pro 16. Now, mind you, this is the laptop that has excited my thirst to learn more about STEM programs, not only for my kids but for myself.
Although many of us joke about having a degree from YouTube University, with the right laptop, and YouTube, you can learn quite a lot about programming, animating, and using the kind of software you will find in most STEM curriculums. However, you will need a potent system with a discrete GPU like the Nvidia GeForce RTX 4000 series to get the most of out of these power-hungry programs and most universities suggest that you purchase a system with a discrete GPU to handle a STEM-based course load. All jokes aside, YouTube is great for learning tips, shortcuts and basics, but the classroom and the right tools are the best investments for your students.
Final Thoughts
Every generation faces the tough task of learning and adjusting to new technologies. What has led to where we are now is that sense of wanting our children and our community to do and be better long after we're gone. Investing in education, and the right tools for our students, will not only build a brighter future for them but also for ourselves as we age out of the workforce.
We currently live in a strange moment in time where people seem to fear advancements in science, technology, engineering, and mathematics. Many seem to loathe those four things, however, they fear and loathe the very things behind everything they enjoy in their lives. From the clothing you wear to the food you eat, technology was a part of creating that, and so is STEM.
Also, some kid is going to share this with his parents, and say, see Mom and Dad, I really do need the $3,500 gaming laptop with the Nvidia GeForce RTX 4090 GPU, um, for school. Sorry, Johnny, you can find a good STEM laptop for under $1,500, like the Asus Vivobook Pro 16. I see you kid, I was a kid once too.
Stay in the know with Laptop Mag
Get our in-depth reviews, helpful tips, great deals, and the biggest news stories delivered to your inbox.
Mark has spent 20 years headlining comedy shows around the country and made appearances on ABC, MTV, Comedy Central, Howard Stern, Food Network, and Sirius XM Radio. He has written about every topic imaginable, from dating, family, politics, social issues, and tech. He wrote his first tech articles for the now-defunct Dads On Tech 10 years ago, and his passion for combining humor and tech has grown under the tutelage of the Laptop Mag team. His penchant for tearing things down and rebuilding them did not make Mark popular at home, however, when he got his hands on the legendary Commodore 64, his passion for all things tech deepened. These days, when he is not filming, editing footage, tinkering with cameras and laptops, or on stage, he can be found at his desk snacking, writing about everything tech, new jokes, or scripts he dreams of filming.