From Chromebooks to mainstream to gaming and even rugged laptops, Dell does it all. And after reviewing loads of notebooks this year we compiled a list of the best Dell and Alienware laptops. We've done the legwork of going through Dell's varied lineup of laptops exploring every type, from 2-in-1s t to powerful gaming rigs in its Alienware line. 
In short, we left no stone unturned and no budget overlooked. The following list can help you decide what the best options are for you based on use case and budget. 
Over the course of a year, we review over 150 laptops covering every price point and use case. Whether you're looking for a productivity workhorse, a serious gaming system or a multimedia machine to kick back and watch a movie or two, we can help you find your ideal match. 
In order to make our best laptops list, the system needs to score at least 4 out of 5 stars on our reviews and deliver on the things shoppers care about most. In our evaluations, we focus on design and comfort, display quality, the keyboard and touchpad, performance, battery life and especially value.
What are the best Dell and Alienware laptops right now?
The Dell XPS 13 remains our favorite overall system in Dell and Alienware's impressive catalog of laptops. Dell kept the smaller, lighter frame and all the aesthetic improvements we loved Not only is the laptop incredibly light, the company also added Intel's 11th Gen Tiger Lake processors to the mix. And if you want a bit more versatility, there's the XPS 13 2-in-1. But if you need a bit more power and a bigger laptop, the XPS 15 and XPS 17 have got you covered. 
Mobile professionals should consider the Dell Latitude 7410. Packed powerful specs, the laptop is ready for anything you can throw at it whether its a data-packed spreadsheet or an important video meeting with your team. It has enhanced security features to keep sensitive information safe and can last well past an 8-hour workday.  Plus, it's portable enough for a daily commute but small enough to fit comfortably in your work from home station.
And for the gamers, there's the Alienware m17 R3 which is packed to the gills with powerful specs. This latest iteration sports the stylish good looks of the Legend design. Plus, you get one of Nvidia's new Super GPUs and Intel's 10th Gen processors. That's more than enough to lay the smackdown on whatever digital foe you might encounter. 
See our picks for best Dell and Alienware laptops 2021 below.
The best Dell and Alienware laptops you can buy today
What do you get when you put one of Intel's new Tiger Lake processors into a Dell XPS 13? Even more awesome. The laptop keeps all the things we loved about this year's previous model, such as a smaller frame, four-sided InfinityEdge bezels and a larger keyboard. But this refresh brings Intel's 11th Gen Tiger Lake processor and a host of promised features, including better CPU and graphics performance and longer battery life. 
You also get Thunderbolt 4 and Wi-Fi 6.You get a laptop that's got a larger display with a bigger, more comfortable keyboard and touchpad, all in a chassis that's somehow smaller than its predecessor's. For beauty, power and longevity, the Dell XPS 13 is the laptop for you. 
See our full Dell XPS 13 (Model 9310, Late 2020) review.
Small tweaks add up to big changes. That's the lesson Dell has been teaching me this year. First with the Dell XPS 13, and now with the new Dell XPS 15 ($1,299 starting, $2,349 as reviewed). It kept the winning components of the laptop, such as its beautiful industrial design, discrete Nvidia GeForce GTX 1650 Ti GPU and jaw-dropping 4K display. 
But Dell didn't stop there. The company managed to make the laptop 5.5% smaller than the previous model while making the keys and touchpad significantly larger. And while that might seem minor, the four-border InfinityEdge bezel has made possible one of the highest resolution displays on the market. Plus, armed with a 10th Gen processor and discrete Nvidia GeForce GPU, the Dell XPS 15 is a serious force to be reckoned with.
See our full Dell XPS 15 (2020) review.
It's a brand new day for Alienware. One that separates the brand into two specific tracks. With its high cost of entry, the Area-51m is decidedly in the realm of enthusiasts. It's the company's first laptop to wield an eight-core processor and one of the first equipped with an Nvidia GeForce RTX 2080 GPU -- its power is undeniable. It's also one of the first systems in a while that allows you to upgrade the CPU, RAM, storage and GPU. It's a bit pricey, but the power and upgradability are worth the cost of entry.   
See our full Alienware Area-51m review.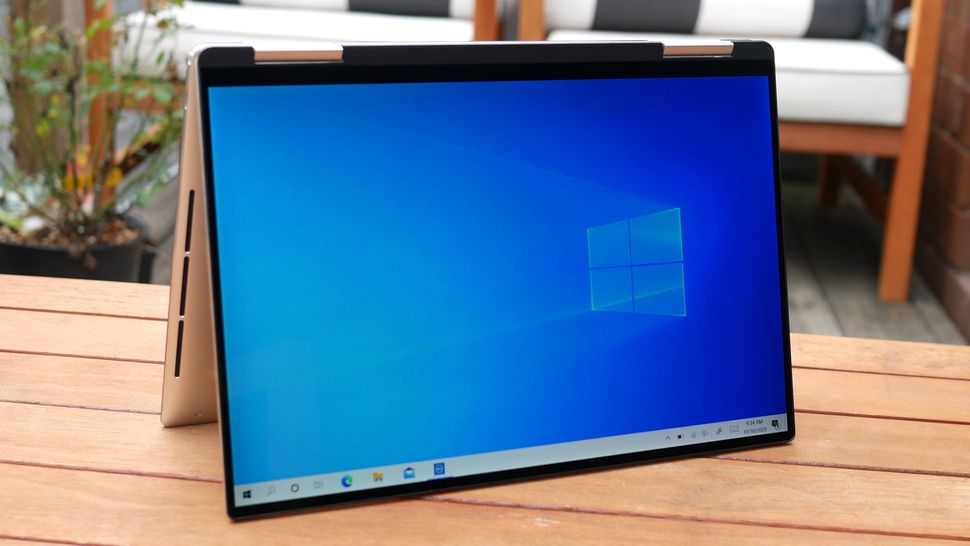 The new XPS 13 2-in-1 is without question among the best 2-in-1 laptops you can buy. That shouldn't come as a surprise. Dell smartly used the XPS 13 as a blueprint for the XPS 13 2-in-1, an almost identical laptop, but with the ability to transform into a tablet. Intel's 11th Gen Tiger Lake CPUs with Iris Xe Graphics deliver a solid performance and graphics boost from the previous chips. The XPS 13 2-in-1 also received a quality-of-life improvement in the way of an IR camera, so you can stop typing in passwords.
The XPS 13 2-in-1 is an excellent 2-in-1 laptop. As is the case each year, what makes the laptop stand out from the competition is its design and build quality. There are very few laptops with such a sleek yet premium chassis as the XPS 13 2-in-1. It exudes class and will make you better about the hefty fee you plunked down to buy one. 
See our full Dell XPS 2-in-1 (2020) review.
The Dell G5 15 SE with an AMD R7 4800H CPU blows its competitors out of this realm. When paired with a colorful, 15.6-inch display and great battery life, the G5 15 SE is a catch. It's a great mainstream gaming laptop thanks to its wild CPU performance, which outpaced the competition. And with its AMD graphics its got quite a kick on the gaming front. Plus, it has over 7 hours of battery life, which should allow for some prodigious gaming sessions.
In addition to everything else we've mentioned, the notebook also has a comfortable keyboard and a fairly speedy SSD. Plus, there are a host of helpful utilities –– all of this for a sub-$1,000 price tag. 
See our full Dell G5 15 SE (2020) review.
Dell is proving that it's up to the task with the Latitude 9410 2-in-1, a sleek and sturdy business notebook with unmatched battery life. The Latitude 9410's all-aluminum chassis is thin and durable. Housed within are powerful components, including a 10th Gen Intel Core CPU capable of running demanding workloads. And when you're off the clock, the Latitude 14-inch, 1080p display captures rich colors, although it could get brighter. 
But what makes the Latitude 9410 2-in-1 a true contender to the other best business laptops is its nearly 17 hours of battery life. Throw in stylus support and you've got one of the most versatile business laptops on the market.
See the full Dell Latitude 9410 2-in-1 review.
The Alienware m17 is here and it's even better than the previous models. Sporting Intel's new 10th Gen H-Series processor and an Nvidia Super GPU, the Alienware m17 R3 is a formidable force in the gaming laptop arena. Not only is the laptop powerful, but it's got an intergalactic elegance that's a bonafide head turner. It's also one of the lightest desktop replacements on the market. Plus, you get a downright stunning 4K display that's worth the price of admission.
The Alienware m17 R3 lives at the intersection of beauty and power. The laptop is one of the lightest desktop replacements on the market and sports a sophisticated design you don't often see in gaming laptops. But beyond its stunning good looks, you have a laptop loaded with some seriously powerful components that deliver the high level of performance you'd expect from a notebook of this caliber. Throw in a lovely 4K display and a comfortable keyboard and you've got the makings of a good time. 
See our full Alienware m17 R3 review.
Whoever said bigger is better must have been referring to the Dell XPS 17. The laptop takes everything we loved about its smaller sisters and supersizes it –– but not really, because despite wielding a magnificent 17-inch, 4K panel, the XPS 17 is smaller than most 15-inch systems. And if that isn't impressive enough, the performance of its 10th Gen Intel Core i7 processor and Nvidia GeForce RTX 2060 GPU should be. And let's not forget the speedy SSD, bumping sound, and highly efficient thermal system. 
If you're looking for a true competitor to the 16-inch MacBook Pro, look no further. The Dell XPS 17 can handle all of your productivity/creativity/multimedia needs thanks to its 10th Gen Intel processor and Nvidia RTX 2060, two powerful components that help the XPS 17 surpass its competitors in many categories. Plus, you get a stunning display, excellent sound system and an agile SSD –– all in a chassis that's 48% smaller than most 15-inch laptops on the market. And despite its super high-res display, it lasted over 9 hours on our battery test. 
See our full Dell XPS 17 review
If you're looking for the king of workstations, we might've just found it. The Dell Precision 7550 offers incredible performance from its Intel Xeon W-10885M CPU and Nvidia Quadro RTX 5000 GPU. There's also a bright 15.6-inch, 4K display, long battery life, a comfortable keyboard and even a pair of high-quality speakers. Not to mention, this machine is super configurable.
The Dell Precision 7550 is the very definition of a high-end laptop workstation. The laptop consistently outpaced the competition during our performance tests. And for a 4K system, it has some stellar battery life. The 7540 is a well-rounded, versatile PC for long-distance commuters and other workers who need a machine with some mobility, but don't necessarily need a daily carry.
See our full Dell Precision 7550 review. 
If you need a capable all-around laptop that can brave the outdoors, look no further than the Latitude 5420 Rugged. With a bright 1080p display, a relatively slim chassis and a responsive touchpad, the Latitude 5420 addresses the biggest problems we've previously encountered with rugged laptops. And it does so without sacrificing durability or performance, thanks to its military-grade strength and capable Core i7 CPU. Better yet, the Latitude 5420 offers all-day battery life, despite sporting a chassis that's thinner than those of its rugged rivals.
See our full Dell Latitude 5420 Rugged review.