Opera GX ensures your last words won't be "please, delete my browser history."
Finally, a way to truly Rest in Peace.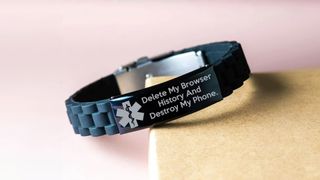 (Image credit: sofeelgoodshop / Etsy)
Opera GX, the self-proclaimed "browser for gamers," has launched an all-new feature that aims to protect your legacy once you shuffle off this mortal coil — "Fake My History."
No longer will your dying words be a hushed "Microwave my hard drives." As your life flashes before your eyes and you're reminded of last night's questionable Googling. Instead, you can spend those last few gasps dropping the truth bombs that you previously avoided out of not wanting to deal with the aftermath.
Opera GX: The only browser offering you a dignified death
The new Opera GX Fake My History feature is an opt-in setting that monitors your browser activity, or technically, lack thereof. After 14 days of inactivity (is that a Fortnite reference?), Opera GX will assume the worst and perform its gamer-bro duties by erasing any trace of the person you are behind closed doors, under darkened lights, on lonely nights.
Opera GX will take your previously questionable browsing history and give it the Ned Flanders treatment — transforming your conspiracy rabbit holes and thirst-fueled adventures into the internet's nether realm into shining examples of humanity that will leave those you've left behind bursting in pride at the person you never actually were.
No longer will your legacy be slain by snoopy sorrowers who come across your dubious browser history, as your online exploits will be spun into goodwill capers such as "How to build a birdhouse," "How to encourage voting in my community," and my personal favorite paragon painting, pretend, posthumous parting gift: "Free online courses for personal growth." Sure, that's what that monthly charge to a dot com website on my credit card bill was for — let's go with that.
Outlook
It's a bit of a meme online about having to pull a close one to one side and deliver the dead man's switch instructions on your precious browsing data, but if it actually is something that draws your concern then Opera GX is now your browser of choice.
Personally, I've spent years filling my browser history with hard sought-after truths about the Earth's hollowed core, how to identify the lizard people that live among us, and a list of online usernames I believe to be owned and operated by federal agents. I see somebody stumbling across my browser history as more of an Indiana Jones inheriting his father's Grail diary moment — but hey, that's just me.
For news, rumors, and updates on all things tech, follow Laptop Mag on Twitter, Facebook, and Flipboard for the latest word as it arrives.
Category
Back to Gaming Laptops
Brand
Processor
RAM
Storage Size
Screen Size
Colour
Condition
Price
Stay in the know with Laptop Mag
Get our in-depth reviews, helpful tips, great deals, and the biggest news stories delivered to your inbox.
Rael Hornby, potentially influenced by far too many LucasArts titles at an early age, once thought he'd grow up to be a mighty pirate. However, after several interventions with close friends and family members, you're now much more likely to see his name attached to the bylines of tech articles. While not maintaining a double life as an aspiring writer by day and indie game dev by night, you'll find him sat in a corner somewhere muttering to himself about microtransactions or hunting down promising indie games on Twitter.