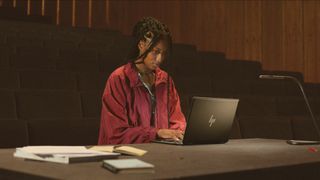 (Image credit: HP)
Laptops have become the go-to tool for both work and play and as such, they get used for a range of tasks. Since no one quite works and relaxes the same way, you need a computer that understands how you use it to help you do both, better.
By leveraging technology like AI and machine learning, HP's new lineup of Spectre x360 laptops have a bunch of intelligent features, backed up by powerful hardware, that makes your computer even smarter than before.
Built on the solid Intel Core platform, you can choose from a Core i5 or i7 processor paired with up to 16GB of RAM and an impressive 2TB of storage for all your stuff.
On the larger models, you can get a 4K display for when you're watching movies or gaming after a productive day of work.
It also comes with plenty of ports to connect all your tech together including USB-C, USB-A, and available HDMI and Thunderbolt 4 support as well.
To keep you going, the Spectre X360 lineup is equipped with all-day battery life so you can keep going wherever inspiration strikes.
A laptop is more than just it's specs, however. You also need a clean, robust software experience to help you get the most out of it. The latest Spectre x360 model comes with Windows 11 so you can take advantage of Microsoft's latest software from day 1.
HP has also built in a suite of intelligent features called SmartSense that intelligently analyzes how you use your computer and adapts it to meet your needs. When you need more juice during a long creative session, it opens all the available processing power to help you get more done.
When you're taking a break to gather your thoughts, it slows things down to
The result is a computer that helps you work even smarter and more efficiently than ever before.
Even with all this power, each x360 computer retains the 2-in-1 flexibility you've come to appreciate that lets you work or play whichever way you like.
For everything you do on your laptop, you need a computer that's powerful enough to handle whatever you throw at it, but smart enough to know what you need, when you need it. HP's latest line of Spectre x360 laptops learn how you work and power up when inspiration hits and slow things down when it's time to relax.
Check out the latest lineup here.
Stay in the know with Laptop Mag
Get our in-depth reviews, helpful tips, great deals, and the biggest news stories delivered to your inbox.