Meta MusicGen: a free AI text-to-music generator – try it out today!
Do androids dream of electric groupies?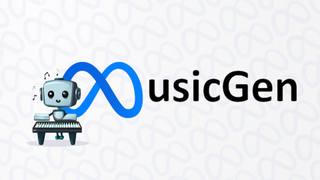 (Image credit: Laptop Mag / Rael Hornby)
Hot off the heels of the announcement of its new VR headset, the Quest 3 (and an impressive display at the Meta Games Showcase), Meta are popping back into the news cycle once again after its Audiocraft research team has released a free-to-all, open source, Meta AI text-to-music language model, MusicGen.
MusicGen works similarly to how other multi-modal Large Language Models (LLMs) like ChatGPT, DALL-E, and Midjourney, using AI to translate natural language prompts into a desired result – in this case, music.
Meta MusicGen: the best text-to-audio LLM
MusicGen isn't the first of its kind. In fact, Google recently unveiled a similar tool of its own by the name of MusicLM. However, while not the first, MusicGen is seemingly a little further along than the Alphabet group's efforts with researchers finding MusicGen to best it across a number of categories.
Researchers compared Meta's MusicGen with similar software including Google's MusicLM, Riffusion, Mousai, and Noise2Music. The study found that both objective and subjective measurements saw Noise2Music able to deliver a more "plausible" result, but MusicGen scored highest for accurate musical concepts, audio-to-text alignment, and human-scored overall audio quality and accuracy.
Meta MusicGen: try the demo online!
Meta have released MusicGen as an open source software, allowing anybody to get in on the action and try their hand at generating music with the power of AI.
That being said, Meta hasn't provided the data it was train on (which is reportedly ~20,000 hours of licensed music, including an internal datasheet of 10,000 high-quality tracks and samples from both Shutterstock and Pond5), but has provided pre-trained models at differing parameters of: 300 million, 1.5 billion, and 3.3 billion.
You're going to need some in-depth know-how and sizable hardware to get this running locally on your system, with Meta suggesting a GPU with at least 16GB of RAM, however, you can also give the software a demo online at Facebook's HuggingFace space.
Outlook
AI tools are blossoming at the minute, with a new one seemingly cropping up every other day. While Meta's MusicGen is a fun little way to pass half an hour for some, it could grow to one day become a vital instrument of its own in music production.
For now though? Well, let's just say that there's no risk of professional musicians having to trade in their plectrums for text-prompts.
Category
Back to Ultrabook Laptops
Brand
Processor
RAM
Storage Size
Screen Size
Colour
Condition
Price
Stay in the know with Laptop Mag
Get our in-depth reviews, helpful tips, great deals, and the biggest news stories delivered to your inbox.
Rael Hornby, potentially influenced by far too many LucasArts titles at an early age, once thought he'd grow up to be a mighty pirate. However, after several interventions with close friends and family members, you're now much more likely to see his name attached to the bylines of tech articles. While not maintaining a double life as an aspiring writer by day and indie game dev by night, you'll find him sat in a corner somewhere muttering to himself about microtransactions or hunting down promising indie games on Twitter.