AMD Ryzen 8000 series leak: MacBook-tier efficiency, 4070 graphics, incredible performance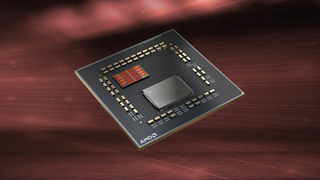 (Image credit: AMD)
Thanks to Moore's Law is Dead, we may have gotten our first glimpses of AMD's Ryzen 8000 line-up for 2024. The information revealed by the YouTube channel's creator, Tom, is supposedly pulled from a mix of older and more recent presentations that AMD have been showcasing to OEMs preparing their laptop designs for 2024.

The leaked information reveals AMD's plans for future chipsets over the coming year and beyond, including the debut of the Zen 5 microarchitecture in Ryzen 8000 CPUs.

The news of the Zen 5's 2024 appearance isn't too surprising, as the semiconductor giants have previously announced their expected market entry during 2022's Financial Analyst Day. However, given that AMD isn't even finished rolling out their Zen 4-based family of APUs yet, this information gives an exciting look at what's in store for AMD systems in the near future.
"Hawk Point" — AMD Ryzen 8040 series
AMD's Ryzen 7040 series "Phoenix" APUs haven't even made it to market yet and we're already being made aware of its follow-up. The "Hawk Point" APU was previously known by the code name "Phoenix+," an indicator that this chipset will likely be a straightforward refresh.

The two main improvements here are likely to be the inclusion of RDNA 3.5 graphics and AMD's new FPGA-based AI engine dubbed the "Ryzen AI Engine." AMD claims that its fully programmable engine is the fastest there is, even pulling ahead of the Apple M2's neural engine.

The "Hawk Point" APU is expected to arrive in Q1 of 2024. A successor, codenamed "Kracken," will follow in 2025 though no further details are known at this time.
"Strix Point" — AMD Ryzen 8050 series
The first chipset to feature AMD's new Zen 5 (4nm) architecture is the "Strix Point" APU. AMD's high-end monolithic mobile chipset features up to 12 cores, including 4C/8T Zen 5 cores and 8C/16T Zen 5c cores alongside 24MB of unified L3 cache.

Further impressing is that the "Strix Point" will also include an RDNA 3.5 integrated GPU with 16CU (computing units) that will supposedly rival an Nvidia GeForce RTX 3050 mobile GPU (35w) in terms of graphical output.

The "Strix Point" will also be outfitted with a 128-bit LPDDR5X memory controller and AMD's "Ryzen AI Engine." If reports are to be believed, then the "Strix Point" is likely to arrive Q2-Q3 2024.
"Strix Halo" — AMD's first consumer-focused chiplet APU
The spotlight stealer amongst this leak comes in the form of the "Strix Halo," a chiplet design with incredible on-paper performance that could both rival Apple silicon's efficiency and allow for off-battery gaming like never before.

The "Strix Halo" is positioned as the ultimate mobile processor thanks, in part, to its 16 Zen 5 cores (with 12, 8, and 6-core variants) and 64MB of L3 cache, performing roughly 25% faster than the 16-core "Dragon Range" APU when both are limited to sub-90w.

Further backing up that claim is the discrete, 20WGP (work group processor), 40CU, 32MB infinity cache, RDNA 3.5 graphics chiplet that would afford the "Strix Halo" enough graphical prowess to rival a sub-95w Nvidia GeForce RTX 4070 mobile GPU.

On paper, the unified SoC promises impressive efficiency, graphics, and performance. Though how that equates to real-world results has yet to be seen. If the information within the recent leak is still accurate, the "Strix Halo" is likely to arrive in the second half of 2024.
"Fire Range" — AMD Ryzen 8055 series
Lastly, the "Fire Range" APU is expected to replace the enthusiast-focused "Dragon Range" APU in the second half of 2024. It's currently unconfirmed if it will make use of RDNA 2 or 3.5, though it is expected to make use of AMD's new Zen 5 (5nm) architecture and feature 16 cores.

While little more is known about this particular APU, keep your eyes peeled to Laptop Mag for more information as and when it arrives.
Category
Back to Ultrabook Laptops
Brand
Processor
RAM
Storage Size
Screen Size
Colour
Condition
Price
Stay in the know with Laptop Mag
Get our in-depth reviews, helpful tips, great deals, and the biggest news stories delivered to your inbox.
Rael Hornby, potentially influenced by far too many LucasArts titles at an early age, once thought he'd grow up to be a mighty pirate. However, after several interventions with close friends and family members, you're now much more likely to see his name attached to the bylines of tech articles. While not maintaining a double life as an aspiring writer by day and indie game dev by night, you'll find him sat in a corner somewhere muttering to himself about microtransactions or hunting down promising indie games on Twitter.