Best 5G laptops in 2023
Here are the best 5G laptops you can buy right now
QUICK LINKS
1. The list in brief
2. Best overall
3. Best business laptop
4. Best 13-inch laptop
5. Best battery life
6. Best 2-in-1 laptop
7. How to find the best laptop
8. How we test
9. Why trust Laptop Mag
The best 5G laptops are catered towards people on the go. If you're a business professional who needs a reliable workstation when there's no Wi-Fi in sight, or if you want drop-of-the-hat access to the full potential of your machine, we've found the best 5G laptops you can find on the market today.

The greatest 5G laptops may not come bundled with a tinfoil hat for the conspiracy theorists out there, but you'll find much more useful stuff instead, like an ever-essential charger or stylus pen. You'll also find many of these laptops are some of the best 2-in-1 laptops and the best business laptops around.
Companies are still breaking new ground with 5G networks, and so too is the market for 5G laptops. But don't let that fool you into thinking that what's currently available holds no value outside of increased connectivity. Many of the laptops on this list have so much more to offer than the latest cellular network.
What do the best 5G laptops have to offer?
Why you can trust Laptop Mag Our expert reviewers spend hours testing and comparing products and services so you can choose the best for you. Find out more about how we test.
In a world where Wi-Fi generally reigns supreme, you might find yourself asking why you'd ever even need to consider picking up a 5G laptop. You may even own a 4G compatible device and feel that it does the job well enough, so why bother? After all, 2020 was the year 5G was poised to really kick things off, and yet, some of the roaring hype for the service has dwindled. In 2022, however, more regions are gaining better 5G coverage, meaning 5G laptops have a chance to shine.
There is more to 5G than just extended network coverage. As 5G expands and more areas are able to access the network, the potential of the service will become more apparent. The mainstream 4G network has a ceiling of speeds up to 100 megabits per second while 5G is capable of up to 10 gigabits per second, which is a hundredfold improvement over 4G speeds.
To put those numbers in context, the average fixed broadband speed in the U.S. (according to speedtest.net) hovers around 60Mbps for uploads and 175Mbps for downloads. That means 5G may actually have the potential to leapfrog ahead of conventional internet connections, delivering lightning-fast downloads, gaming, and streaming to your home wirelessly (at least in some areas).
While the majority of our favorite 5G laptops won't allow you to install and run the latest AAA games, you could reliably stream games to your device thanks to zippy 5G speeds and the current trend of cloud-based game streaming services. And when you're on the move, you can turn even the most business laptop into a gaming notebook, all through the cloud.
A 5G laptop is, if nothing else, future-proofing yourself with an alternative option for connecting to the internet. 5G has the potential to last a decade, so this choice will afford you on-the-go and (eventually) at-home internet at speeds you won't be able to deny.
The Quick List
Best Overall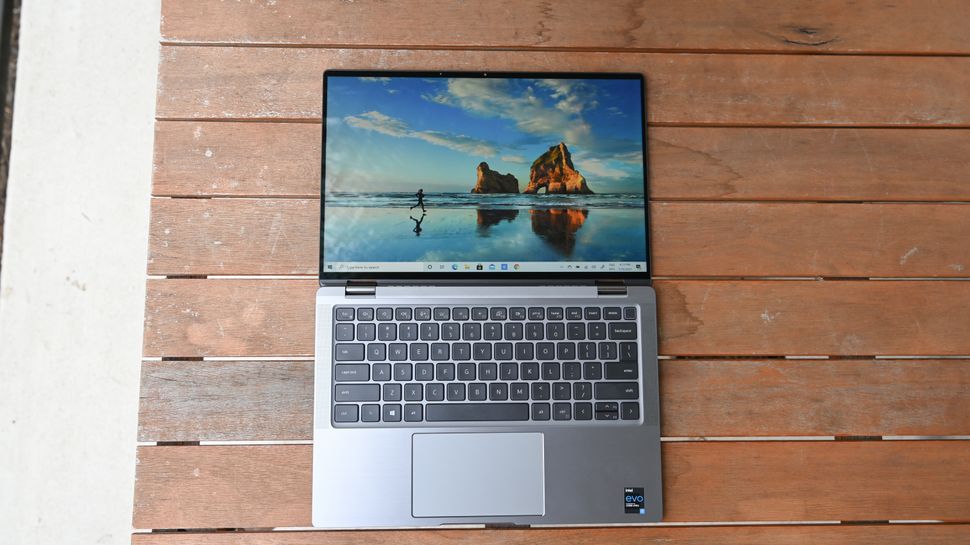 Best 5G laptop
Specifications
CPU:
Intel Core i7-1185G7
GPU:
Intel Iris Xe Graphics
Storage:
512GB M.2 PCIe NVMe Class 35 SSD
Display:
14-inch, 2560 x 1600-pixel 16:10
Size :
12.2 x 8.5 x 0.5 inches
Reasons to buy
+
Fantastic QHD+ 16:10 display
+
Fast performance
+
Epic battery life
Reasons to avoid
-
Subpar 720p webcam
-
Stylus costs extra
Dell's Latitude 9420 2-in-1 is a top convertible business laptop that offers fast performance, a gorgeous 16:10 display, and long battery life in a slim, but durable chassis.

This is as close to a "no-compromise laptop" as I've seen. Few rivals are as versatile and feature-filled as the Latitude 9420 2-in-1, which flaunts a gorgeous 14-inch QHD+ 16:10 display in a slim and lightweight chassis. Performance is excellent thanks to 11th Gen Intel chips, and innovative security features will give you peace of mind that your privacy is protected.

While it can be pricey, especially if you add the 5G option to it, that doesn't stop it from being one of the best business laptops and the best 2-in-1 laptops you can get. The Latitude 9420 2-in-1 is the laptop you can rely on when on the move with its 5G connectivity.

See our full Dell Latitude 9420 2-in-1 review
Best Business Laptop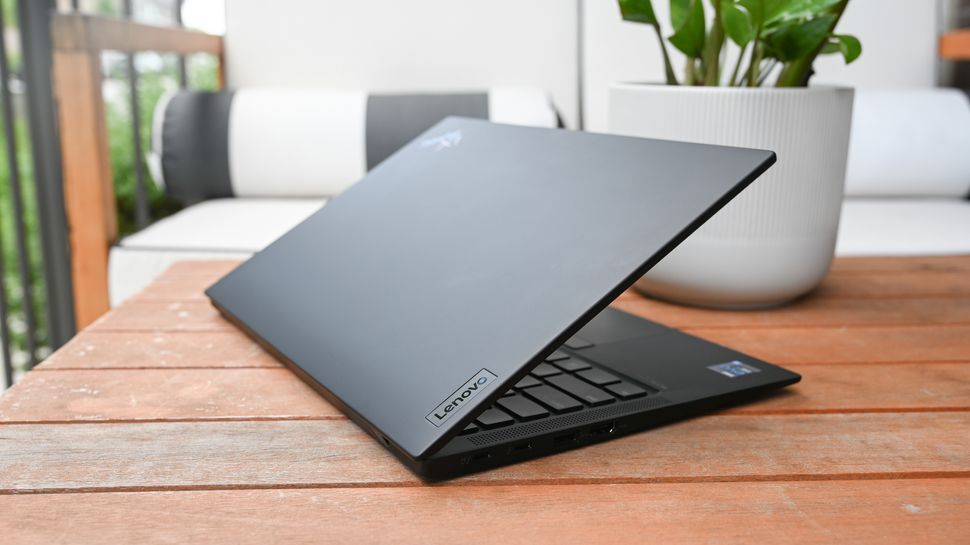 Best 5G business laptop
Specifications
CPU:
11th Gen Intel Core i5/Core i7
Storage:
256GB/512GB/1TB SSD
Display:
14-inch, 1920 x 1200-pixel 16:10
Size:
12.4 x 8.7 x 0.6 inches
Reasons to buy
+
Slim, lightweight design
+
Good 14-inch, 16:10 FHD+ display
+
Epic battery life
Reasons to avoid
-
Poor 720p webcam
-
No card slot
Lenovo made several welcome changes to the 9th Gen edition of its flagship business model. On top of fast performance from 11th Gen Intel CPUs, you get epic battery life, powerful quad speakers, a new 14-inch display with a 16:10 aspect ratio, and plenty of ports, all in an impossibly lightweight chassis (2.5 pounds).
But it's still those classic ThinkPad features — a durable design (with MIL-STD-810G strength), best-in-class keyboard, and stealthy black/red aesthetics — that carry the X1 Carbon to greatness.
Yes, we wish the ThinkPad X1 Carbon hadn't ditched the SD card reader in the previous, and top configurations can get very expensive, but you'd be hard-pressed to find a better overall business machine.
See our full Lenovo ThinkPad Carbon X1 (Gen 9) review
Best 13-inch 5G laptop
Best 13-inch 5G laptop
Specifications
CPU:
Intel Core i7-1185G7
GPU:
Intel Iris Xe Graphics
Storage:
512GB PCIe NVMe TLC SSD
Display:
13.3-inch, 1920 x 1080
Size:
12 x 7.8 x 0.6 inches
Reasons to buy
+
Packed with security features
+
Solid performance
+
Great battery life
Reasons to avoid
-
Doesn't ship with a pen
-
Premium price
Lightweight, durable, secure, and fairly powerful, these are the qualities every business laptop worth its salt should have. The HP Elite Dragonfly Max has all of that and more.

Weighing a mere 2.5 pounds, the Dragonfly Max offers a plethora of security features, rugged durability, over 13 hours of battery life, and an 11th Gen Intel processor — all in a strikingly attractive chassis that passed 19 MIL-SPEC tests. Plus, you get an incredibly bright vivid display with a built-in privacy screen, 5G connectivity, a powerful webcam and speakers, and comfortable keyboard. What else could you want?

Well, a cheaper price would be nice, along with the inclusion of a stylus. However, when it comes to 5G portability wrapped up in a do-it-all laptop, the HP Elite Dragonfly Max won't disappoint.

See our full HP Elite Dragonfly Max review
Best Battery Life
Best 5G laptop with incredible battery life
Specifications
CPU:
Qualcomm Snapdragon 8cx Gen2
Display:
13.5-inch, 1920 x 1280-pixels
Size:
11.75 x 9.03 x 0.63
Reasons to buy
+
Innovative easel mode
+
Incredible battery life
+
Clicky keyboard
+
Compact and lightweight
+
Refined design
Reasons to avoid
-
App incompatibility
-
Middling performance
-
Pricey
The HP Elite Folio is packed with innovative, solution-solving tech — not gimmicks — that substantiates its $2,000 price tag. It also gives the Energizer Bunny a run for its money; it lasted a jaw-dropping 16 hours and 21 minutes on a charge.

Not only does the Elite Folio have the endurance of an Olympic champion, but it breaks records like one, too. The Elite Folio is the world's first business convertible with a spectacular pull-forward mechanism. The feature lets you transform the display into a digital easel so you can get your Bob Ross on. The Elite Folio comes with an awesome stylus — a plus for users who have an affinity for digital note-taking and doodling.

HP is transparent about the fact that the Elite Folio is not a powerhouse laptop for graphics-intensive, CPU-hogging activities. But for users that don't have a demanding workload, this 5G laptop will still impress in its processing power.

See our full HP Elite Folio review
Best 2-in-1 5G laptop
A fantastic 2-in-1 5G laptop
Specifications
CPU:
Intel Core i5-1130G7
GPU:
Intel Iris Xe Graphics
Size:
11.7 x 9.2 x 0.45 inches
Reasons to buy
+
Unbelievably thin
+
Solid and durable chassis
+
Decent webcam
+
Bright and unique 3:2 display
+
Versatile 2-in-1 design
Reasons to avoid
-
Haptic touchpad isn't great
-
Limited ports
-
Somewhat expensive
The Lenovo ThinkPad X1 Titanium (Gen 1) sets itself apart in the often boring world of business laptops with a mind-bendingly thin sub-half-inch frame and titanium construction that we haven't seen in years.
It doesn't stop there either; the 3:2 aspect ratio has its ardent fans, but we haven't seen it on too many laptops outside of the Huawei MateBook X Pro (2022) and Surface Laptop 4. It's brilliant for being productive, which is what the X1 Titanium is first and foremost crafted to do.

That chassis makes it stand out as a 2-in-1 business laptop; it is easy to handle in tablet mode and while I miss having a silo for the pen from a convenience standpoint, a full-sized pen feels a lot better in your hand. Add on its 5G connectivity, and you have yourself a reliable 2-in-1 business laptop.

See our full Lenovo ThinkPad X1 Titanium Yoga review
How to Choose the Best 5G Laptop
When shopping for a 5G laptop, there's a lot to consider. To help you choose a system, here are five key points to keep in mind when choosing a system.
Budget: What you get for the money
You can find good inexpensive gaming laptops for under $1,000. However, more powerful mainstream gaming laptops are often priced between $1,500 and $2,000. Premium systems typically cost more than $2,000 and come stacked with a host of high-powered goodies such as high-powered specs and tricked-out software.
Screen Size: 15 inches is the go-to
It's very rare that you'll find a 13 or 14-inch gaming laptops nowadays as smaller bezels and lighter frames have paved the way for seriously thin-and-light gaming laptops. That means the days of chunky 15.6-inch laptops putting a strain on your back are over (almost).
From there, you have the 17.3-inch desktop replacements that like their smaller counterparts are becoming super svelte. But there are still the big behemoths that don't skimp on the specs. However, weighing upwards of 8 pounds, those big boys are made for your home gaming station.
Screen Resolution: 1080p for high refresh rates, 4K for detail
When it comes to gaming laptops displays, you want to strike a balance between frame rates and aesthetics. And in case you're planning to get a truly mobile system battery life is also deserves consideration. We recommend checking out a system with a 1080p resolution. Panel makers are now serving up screens with high refresh rate, topping out at 360Hz with a 3 millisecond response rate. But don't count out 4K screens yet as we're starting to see laptops with 4K displays with 120Hz. Keep in mind that laptops with lower resolutions tend to have longer battery life overall.
Refresh rate: 120Hz is the sweet spot
Depending what kind of games you're playing, particularly first person shooters and MOBA, you'll take anything that will enhance accuracy. Surprisingly, the higher a display's refresh rate is, the more accurate your shot become. It's a phenomenon that we've experienced first hand during many demos. And while 60Hz is passable, right now we recommend investing in a panel with at least a 120Hz refresh rate.
Intel or AMD?
A couple of years ago, the answer to this question would have been undoubtedly Intel. But AMD has made a furious comeback with its new Ryzen CPUs, which are delivering great overall performance. Thanks to the architecture in the new Ryzen chips, they're super power efficient without sacrificing productivity. The Ryzen 5000 series CPUs have consistently impressed with its performance versus battery life.
Not to be outdone, Intel's 11th Gen chips are nothing to sneeze at. Laptop manufacturers have started rolling out systems with the Intel's 11th Gen H-series Tiger Lake chips. The 10-nanometer chips are extremely powerful, but still at the low-end of the spectrum with the overclockable HK-series CPU, due to launch soon. Why do you want to invest in an overclockable processor, because with the touch of a button, you can squeeze even more power out of the system. It comes in handy when you're multitasking or playing a really demanding game.
Battery Life: At least 4.5 hours
Unless it's plugged in, gaming laptop battery life tends to be very short, especially when gaming. However, gaming laptop battery life has gotten increasing longer over the years. So much so, that anything under 4.5 hours is considered below average. But we've just reviewed our first gaming laptop that's lasted into the double digits. With results like that, we expect gaming laptops will match their non-gaming counterparts sooner than later. Our most power-efficient gaming laptop ran over 11 hours and sits on our longest-lasting laptops page.
Specs: 1080p / Core i5 / 16GB Are Best Bets
You can spend a lot of time delving into specs, but here are the key components to think about. If you just want really good mainstream performance, go for a Core i5 CPU, 16GB of RAM, a 512GB SSD and a 1080p screen.
How we test the best 5G laptops
We put each laptop through extensive benchmark testing — both synthetic and real-world — before they end up in the hands of our reviewers. We evaluate each aspect of the laptop, including its performance, battery life, display, speakers and heat management.
In our benchmark testing, we use a Klein K10 colorimeter to detect the brightness and sRGB color gamut of the laptop's display. For performance testing, we run the laptop through a gauntlet of benchmarks, including Geekbench 4.3 and 5.0 and 3DMark professional graphics tests.
To determine real-world performance, we task the laptop to convert a 4K video to 1080p resolution and to duplicate a 4.97GB multimedia file. Our real-world graphics test is the Dirt 3 benchmark with medium settings at 1080p resolution.
We also run heat tests by playing a 15-minute full-screen video and measuring temperatures in different areas of the laptop. Last but not least, our battery test consists of continuous web surfing over Wi-Fi at 150 nits of brightness. For MacBooks and premium Windows 10 laptops, a runtime of over 9 hours is considered a good result whereas gaming laptops and workstations that can stay powered for longer than 5 hours deserve praise.
These tests are complemented with extensive hands-on testing from our reviewers who critique everything from the laptop's materials to the feel of its touchpad.
See this page on How We Test Laptops for more details on our benchmarking procedures.
Why trust Laptop Mag
Laptop Mag reviews over one hundred different laptops every year, from paperweight ultralights to everyday workhorses to lumbering gaming notebooks that scorch the frame rates of even the hottest AAA games. We're not just experts in the laptop field, as we go one step further by meticulously testing smartphones, tablets, headphones, PC accessories, software, and even the latest in gaming.
We are 100% independent and have decades of experience to help you buy with confidence. In fact, Laptop Mag has been testing and reviewing products for three decades, and we continue to deliver trustworthy reviews you can rely on.
Our experienced team of writers and editors scour the available information about the laptop and put it through its paces to determine which is best for you. But before they start, the testing team subjects each system to a rigorous regimen of synthetic and real-world tests to see how a system handles the type of work and games you're most likely to throw at it.
Our editorial trustworthiness is enforced by one of the world's largest technology publishers, Future Publishing. As a company, we have unrivaled experience across every tech sector — and we're the group's specialist for all things mobile tech.
Stay in the know with Laptop Mag
Get our in-depth reviews, helpful tips, great deals, and the biggest news stories delivered to your inbox.
Rael Hornby, potentially influenced by far too many LucasArts titles at an early age, once thought he'd grow up to be a mighty pirate. However, after several interventions with close friends and family members, you're now much more likely to see his name attached to the bylines of tech articles. While not maintaining a double life as an aspiring writer by day and indie game dev by night, you'll find him sat in a corner somewhere muttering to himself about microtransactions or hunting down promising indie games on Twitter.