If you're a small business owner, a good laptop is an invaluable tool. Whether you need to get paperwork done, create content to drive new customers to your business, or manage the logistics of your operation, a quality laptop provides you with the power and versatility you need to do all of this and more. Additionally, since modern laptops are razor-thin and light as a feather, you can take them wherever you need to be at any given moment. This is incredibly convenient for business owners who are on the move often.
There are many laptops out there that will serve business owners well, but in our minds, nothing tops HP's Intel Evo devices. Not only do they have excellent specs and superb features, but they also go through a rigorous verification process that ensures that claims made about the devices are 100% legit and supported by testing data. With that in mind, here's a look at five key reasons why HP Intel Evo laptops are the best laptops available for small business owners.
The speed and power of 11th Gen Intel
Arguably the biggest reason why HP Intel Evo laptops are the best options on the market for small business owners is because of the fact that they come with Intel's brand new 11th Gen processors (also known as CPUs). These processors are more efficient and powerful than previous offerings from Intel's competitors as well as from Intel itself.
If you're a small business owner, this is a big deal, as every business-focused productivity task, you'll be doing on your laptop as a business owner benefits greatly from a more powerful CPU. Whether you're creating visual media, building a website, churning through documents, keeping an eye on analytics, or organizing your business' workflow, you'll be able to do it faster than ever before with the supreme processing power offered by 11th Gen Intel CPUs.
Unrivaled Wi-Fi performance with Wi-Fi 6
Another huge reason why HP Intel Evo laptops are excellent for small business owners is because of their compatibility with Wi-Fi 6, the latest Wi-Fi standard that is rapidly becoming commonplace. Wi-Fi 6 offers a multitude of performance improvements over the last generation of Wi-Fi. These include faster internet speeds, stronger connection and network stability, better bandwidth so that multiple devices being connected at once doesn't slow down the network, and better battery efficiency so that using Wi-Fi is less taxing on your battery. Provided you're connected to a Wi-Fi 6 router, you'll be able to enjoy all of these benefits with an HP Intel Evo device.
The performance enhancements of Wi-Fi 6 are great for everyone, but they're especially beneficial for small business owners. This is because business owners rely heavily on fast, stable internet connections to communicate with employees and handle logistical concerns. Wi-Fi 6 ensures that there's a lower risk of network instability or slowdowns, which in turn allows business owners to get work done in ideal conditions day in, day out.
The huge value of Thunderbolt 4
Thirdly, HP Intel Evo laptops are outfitted with Thunderbolt 4 ports that can be used to transfer data to and from external drives at a rate of up to 40Gb (gigabits) per second, which is incredibly useful if you're a small business owner that needs to move large files around a lot. Additionally, Thunderbolt 4 is capable of up to 100W of charging power, meaning that you can use the port to charge your laptop insanely quickly. Thunderbolt 4 also supports hooking up to two 4K displays up to your device, which is perfect for people who work with visual media a lot or people that would benefit from being able to blow up their laptop display to large external screens. In general, Thunderbolt 4 makes productivity easier and faster, which is awesome.
A display for everyone, no matter what you need
Another fantastic feature of HP Intel Evo laptops is their displays, which come in a variety of designs and resolutions. Everything from modest HD displays that ensure maximum battery life to gorgeous 4K screens with stellar color accuracy and brightness that are ideal for visual media creators is available, and many of these displays can also be configured with touch and inking functionality as well.
Since every small business owner has their own specific needs based on the nature of their business and how that business is operated, the wide variety of display options available with HP Intel Evo laptops is excellent. You'll be able to find a display that's right for you no matter what kind of screen you need.
Battery life that can go the distance
Finally, HP Intel Evo laptops are fitted with superb batteries that are both large and efficient. As a result of this, you'll be able to use them all day without worrying about charging them, which is excellent news if you don't like being tethered to a wall plug while working. This is especially valuable for business owners who plan on doing more intensive work such as editing visual media projects, as these are the types of tasks that have traditionally drained laptop batteries quickly in the past. HP Intel Evo laptops can stand up to this challenge, guaranteeing all-day battery life no matter what you need to get done each day.
Your productivity will soar with an HP Intel Evo laptop
While there are many great laptops out there, nothing comes close to what HP Intel Evo devices offer if you're a small business owner. Between the power of 11th Gen Intel processors, the speed and stability of Wi-Fi 6, the value of Thunderbolt 4 connectivity, a wide variety of displays to choose from, and supreme battery life that will last you all day long on a consistent basis, HP Intel Evo laptops pack the tech industry's finest hardware into a thin and light form factor that you can take anywhere. There's no doubt in our minds that if you're a small business owner, it doesn't get any better than HP Intel Evo.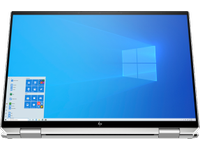 (opens in new tab)
HP Spectre x360
The HP Spectre x360 is the definition of high quality. It delivers even stronger performance than the HP ENVY x360 and features an even more attractive and premium chassis, all while still remaining fairly affordable (though it will set you back more than the ENVY will). It comes in 13-inch and 14-inch variants.
Starting at $999 (13-inch), starting at $1,159 (14-inch) (opens in new tab)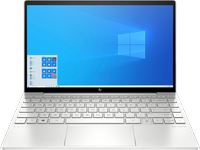 (opens in new tab)
HP ENVY Laptop 13
The HP ENVY x360 is your best bet if you're looking for a great balance between price and performance. It's capable, affordable, and features a sleek, attractive design that everyone will love.
Starting at $899 (opens in new tab)