If you're a business owner, having a good computer is immensely useful since you can use it to churn through paperwork, manage logistics, create content for your business, and more. However, a decision you'll be faced with when going to buy a computer is this: should you get a laptop or a desktop?
There are pros and cons to each PC form factor, but ultimately, we feel that laptops are the better choice for business owners. Here's a look at why.
Portability is valuable
The main advantage of opting for a laptop instead of a desktop is portability. While most desktops weigh 20 pounds or more and are boxy and bulky, laptops typically weigh only 4 or 5 pounds and are thin enough to slip into a bag without issues. This makes them incredibly easy to take around with you as you go about your day, which gives you the flexibility to get work done anywhere.
Considering most business owners aren't able to spend their entire workday at a desk, this flexibility is key. Being able to stay productive while you travel or move about your home or office is incredibly valuable.
Less required space
Another major reason why business owners are better off with laptops is because of how little space they require. While desktops demand the use of a separate keyboard, mouse, and monitor, laptops cram all of these things into one package that's just over a square foot in size.
This reduced footprint makes it very easy to use laptops on any empty surface you can find, unlike desktops, which require large, bulky desks. This means that the user can make effective use of a laptop on even the tiniest of tables, and if you do have a large surface to work on, you can use the saved space for peripheral accessories and devices that can help to boost your productivity.
Say goodbye to cable conundrums
Yet another big advantage of opting for a laptop is the fact that you won't have to worry about cables. With a desktop, there are a ton of power, display, and networking cables that you have to try and manage. This tends to be a serious pain, and you have to do it every time you decide to move your desktop setup around.
With a laptop, however, the only cable you have to worry about is the power cord — and even then, you only have to care about that when the device is charging. These days, you can use a laptop for well over 10 hours before needing to plug back in. This longevity allows you to say goodbye to cable woes, which means less wasted time — and time is money.
So, which laptop should you choose?
There are many excellent laptops well-suited for business owners out there, but our favorites are the devices in the new HP Intel Evo line. This includes the affordable HP ENVY x360 and the 13 and 14-inch variants of the advanced HP Spectre x360 convertible. Both of these laptops are powered by strong 11th Gen Intel processors, Intel Xe graphics, and offer plenty of RAM and storage.
People who want a budget-friendly laptop that still packs a punch should go with the HP ENVY x360. It has less capable specs than the Spectre, but it makes up for it with a lower price. Ultimately, it still performs superbly for productivity tasks and has excellent battery life, so you get a lot of bang for your buck with the ENVY.
The HP Spectre x360, meanwhile, is more of a premium device that features top-of-the-line specs like a 4K display with touch support, and the ability to use the laptop as a tablet thanks to the convertible chassis. It's a little pricier than the ENVY, but if you're looking for the ultimate business laptop, it doesn't get any better than this one.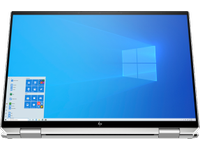 (opens in new tab)
HP Spectre x360
The HP Spectre x360 is the definition of high quality. It delivers even stronger performance than the HP ENVY x360 and features an even more attractive and premium chassis, all while still remaining fairly affordable (though it will set you back more than the ENVY will). It comes in 13-inch and 14-inch variants.