Your MacBook is a powerful laptop capable of tackling all sorts of tasks, but when it comes time to connect accessories, charge up, or output to an external display, you'll find yourself severely limited by the lack of ports on the thin and light laptop. The iVANKY Docking Station Pro is built to solve this unique MacBook problem.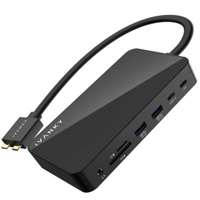 (opens in new tab)
The iVANKY Docking Station Pro is a 12-in-2 solution with a special adapter that plugs into both of your MacBook, MacBook Air, or MacBook Pro's USB-C ports at the same time. What you get in exchange for those two ports is a whole host of connectivity options. It's also a plug-and-play solution that doesn't require any special software or drivers to get up and running.
To help you expand your workspace, the iVANKY Docking Station Pro includes two HDMI 2.0 ports that can each support a 4K display with HDR and a 60Hz refresh rate. That can help big time with photo and video editing workflows or provide a ton of extra screen real estate for coding or even just conference calls. The built in Gigabit Ethernet can also help you get high sustained speeds and stable internet connectivity whenever your work depends on it.
If your workflow depends on external storage to make up for the limited capacity of the MacBook, you'll be able to make great use out of the iVANKY Docking Station Pro's total of six USB 3.0 ports with 5Gbps transfer speeds. Four of these come in the form of USB-A ports for common and legacy devices while another two offer USB-C connections. Of course, you can also use those ports of accessories like keyboards, mic, or premium webcams and microphones. If your media or fields are on media cards, you'll also be able to take advantage of the SD and microSD card readers.
Even charging is simplified with the iVANKY Docking Station Pro. The dock is built to handle 180W of power and has built in over-voltage, over-current, and short-circuit protection. With all the power coming in, it can deliver up to 96W to your MacBook while also providing 18W PD fast charging for a phone or tablet, letting you keep multiple devices all charged up at once.
A premium USB-C dock like this doesn't come cheap, but for Amazon Prime from 6/21 to 6/22, iVANKY is offering a 20% discount (opens in new tab). So if you need to upgrade your MacBook workstation, don't miss this opportunity.