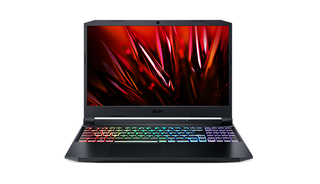 (Image credit: Acer)
Picking a laptop for college is tricky because you might not have a huge budget, but you will need to get something that can handle the workload of your chosen subject. Getting this wrong can be a very expensive mistake if you end up having to replace the laptop.
Gaming laptops are known for having dedicated graphics cards as opposed to just integrated graphics, and an overall focus on high performance. What you may not know is that today's top GPUs, like the GeForce RTX 30 Series, are also ideally suited to accelerating many other types of applications including technical software for data science, engineering, economics, and other STEM subjects as well as creative apps for video editing and 3D art. These applications will work many times faster with a dedicated GPU on board.
If you're a gamer, a GeForce RTX 30 Series GPU will let you experience today's top titles in a way that a machine with only integrated graphics can't compete with. You'll get fast, smooth, judder-free performance even with ray traced graphics at the highest quality settings, and your laptop will be ready to take advantage of AI-powered DLSS, which gives you a performance boost in many of the latest games.
You might think of gaming laptops as too big and heavy to carry to lectures, but these days that's not true at all. GeForce RTX 30 Series laptops are thin and light, with many designs under 20mm wide and 4lbs, so you get a sleek device that fits easily in your bag.
Supercharge your studies
Many of the applications used in STEM subjects are able to take advantage of the power of the GeForce RTX platform. Just like with gaming, when you switch to a machine with this kind of graphics card you'll see a massive transformation in how these programs work—you get next-level performance that enables you to finish coursework faster, work on more challenging and more expansive projects, and not get stuck in the computer lab or have to rely on school servers. For example, complex models in SolidWorks will render up to 8 times faster, and training AI models can be up to 50 times faster.
Over 150 games and applications including STEM and creative software are able to tap into the power of a GeForce RTX graphics card, and that number is always increasing. STEM apps that are optimized to take advantage of RTX processing cores include MATLAB, TensorFlow, Windows ML, Enscape, PyTorch, Autodesk Revit, Unreal Engine, Blender, and many more.
Unleash your creativity
If you're studying a creative course such as filmmaking, visual effects or anything that involves editing images or video, a GeForce RTX laptop is perfect for you. It goes without saying that the RTX graphics card will give you excellent performance for all your apps and speed up all of the amazing AI-powered features that are coming out now, but there's more to it than that. RTX laptops get you access to the NVIDIA Studio platform.
This includes Omniverse, an extensible platform for 3D design and collaboration, which makes 3D tools interoperable so that you can use them as if they're a single piece of software. Omniverse eliminates the need to keep importing and exporting assets across multiple applications. Omniverse has its own apps within it such as Machinima, which is for creating game cinematics.
Also part of the NVIDIA Studio platform are Canvas, which uses AI to turn your sketches into beautiful photorealistic images, and Broadcast, which essentially turns any room into a home studio by cleaning up audio and video in real time. Broadcast removes background noise and distortion from your voice so that you can collaborate with coursemates from anywhere.
Whether you're gaming, using technical STEM software or working with creative apps, a GeForce RTX 30 Series laptop can do it all. You might think of gaming laptops as pricey, but there are some great deals around now that offer fantastic value for money.
Here are some of the best:
For those on a higher budget, the Razer Blade 15 is known as one of the best gaming laptops out there. It features a 15.6-inch display that's available with a super fast 360Hz refresh rate at Full HD for serious gaming and smooth video editing, and you can choose your screen so you can trade-off between refresh rate and resolution depending on your needs. Based around an NVIDIA GeForce RTX 3070 Laptop GPU and an Intel 11th Gen 8-Core i7 CPU , this laptop offers top specs with luxury build quality.
If the Razer Blade 15 is out of your price range, don't worry; there are some great budget options with a GeForce RTX 3050 GPU and this is one of them. It has an AMD Ryzen 5 processor, there's 8GB of memory, a 512GB solid state hard drive and a 15.6-inch, 120Hz screen. Some smart decisions have been made to keep the price down and the performance up for this very competent laptop.
The Acer Predator Helios 300 is a top performer whose specification can be ramped up according to your budget. Even at the lower end of the scale there's a GeForce RTX 3060 GPU and an 8-core 11th Generation Intel Core i7 processor, 15.6-inch Full HD display with 144Hz refresh rate, 16GB DDR4 memory, and a 512GB solid state drive. The unit is less than an inch thick and weighs just over 5lbs.
Another great budget option, this offering from Lenovo has a good set of components for the price and it will handle most software and games well. It has a GeForce RTX 3050 Laptop GPU, an AMD Ryzen 7 3.2GHz processor, and there's 16GB of DDR5 RAM, a 512GB solid state drive and a 15.6-inch, Full HD display with 120Hz refresh rate. The IdeaPad is just over 1 inch thick and weighs 5.09 lbs.
With its angular black chassis and backlit keyboard, the Nitro has the classic gaming PC look and will deliver some serious performance for your money. There's a GeForce RTX 3050 GPU, an 11th Gen Intel Core i7 processor, and a 15.6-inch widescreen display with 1920 x 1080 resolution and 144Hz refresh rate, 8GB of DDR4 3200MHz memory and a 512GB solid state drive. The Nitro is 0.94 inches thick and weighs 4.85 lbs.
Study, game, and create
As this list demonstrates, it's possible to get a laptop with all the wonderful technology of an RTX graphics card for well under $1000. Saving a couple of hundred dollars and getting a standard laptop means you miss out on a whole new level of performance and may well have to replace your laptop fairly soon anyway, so it's a false economy. Whichever one you pick, you won't be disappointed.
Stay in the know with Laptop Mag
Get our in-depth reviews, helpful tips, great deals, and the biggest news stories delivered to your inbox.